Preparation for N Korea summit meeting in full swing: WH
May 29, 2018 23:22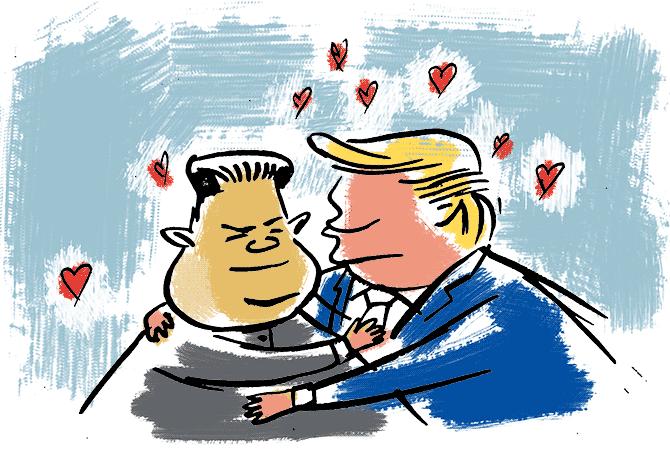 United States Secretary of State Mike Pompeo will meet with a top North Korean general in New York this week, as preparations for a historic summit meeting in Singapore between President Donald Trump and North Korean leader Kim Jong Un is in full swing, the White House said today.
White House Press Secretary Sarah Sanders, however, did not confirm if the Singapore summit would be on June 12, as was scheduled earlier.
She gave an insight into the preparations that the Trump Administration is having with the North Koreans and the other countries in the region, Japan, Singapore and South Korea in particular.
"Since the President's May 24th letter to North Korean leader Kim Jong Un, the North Koreans have been engaging. The United States continues to actively prepare for President Trump's expected summit with leader Kim in Singapore," Sanders said in an update on the 'expected' Singapore summit.
On Thursday, Trump abruptly cancelled the proposed summit meeting with the North Korean leader on June 12 in Singapore and blamed Pyongyang's 'tremendous anger' and 'open hostility' for his dramatic decision.
His move resulted in flurry of activities by the North Koreans, who then said that Pyongyang was willing to hold the meeting anytime in any form.
But within 24 hours, Trump said the meeting could still go ahead after productive talks were held with North Korean officials.
A day later, Kim had an unscheduled meeting with North Korean president Moon Jae-in.
A team of US officials had a meeting with the North Koreans in the demilitarized zone, while another team travelled to Singapore for preparations.
Sanders today said President Trump will meet with Prime Minister Shinzo Abe of Japan on June 7 at the White House.
She said North Korean Vice Chairman of the Central Committee, General Kim Yong Chol, is traveling to New York and will meet with Secretary of State Pompeo later this week.
Kim Yong Chol was expected to arrive tomorrow in New York.
"We also have a US delegation meeting with a North Korean delegation in the DMZ," she said.
The United States delegation consists of Sung Kim, US Ambassador to the Philippines; Allison Hooker, Director for Korea for the National Security Council; and Randy Schriver, Assistant Secretary of Defense for Asian and Pacific Security Affairs at the Department of Defence.
"They plan to have additional meetings this week," Sanders said.
"Separately, Joe Hagin, White House Deputy Chief of Staff, and the US pre-advance team are in Singapore coordinating the logistics of the expected summit," she said.
Lastly, the National Security Advisor John Bolton is in touch with his South Korean and Japanese counterparts, Sanders said.
Washington has made it clear it wants to see the 'complete, verifiable and irreversible denuclearisation' of the North. But Pyongyang has vowed it will never give up its nuclear deterrence until it feels safe from what it terms US aggression.
In April, Trump had stunned the world by accepting an invitation to meet Kim in an unprecedented sit-down. -- PTI

« Back to LIVE