EVM snags 'dangerous trend for democracy', says Akhilesh
May 29, 2018 15:11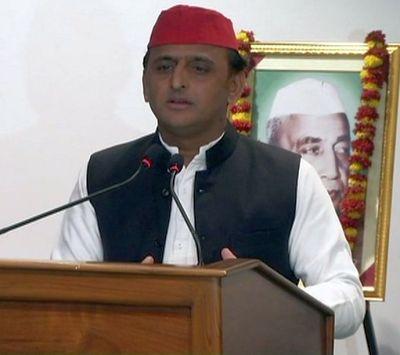 Samajwadi Party chief Akhilesh Yadav today termed as a "dangerous trend for democracy" EVMs developing snags in "areas having SP and RLD influence" and demanded that all future elections be conducted through paper ballots.
"Complaints in large numbers have been received of EVMs and VVPAT developing snags in areas where the SP and the RLD have good influence during yesterday's polling...it seems as if this has been done as part of a design," the SP chief told newspersons in Lucknow.
The Samajwadi Party president alleged that people in large numbers could not exercise their franchise yesterday.
"Common people have also lost faith in EVMs...officials did not take the issue seriously...this is a dangerous trend for democracy," he said.
The former Uttar Pradesh chief minister said his party had said it earlier too and wants to make a fresh demand that all future elections be conducted through paper ballots.
"This will strengthen democracy...I will ask other political parties, will also write to them, that all should unitedly put forth their views against EVMs...there are many countries which are ahead of India in many things but have faith in paper ballot rather than EVMs for conducting elections," the SP president said.
To a question as to whether any peoples' movement will be launched on this issue, Yadav said first he will talk to all political parties on this issue.
"Earlier when a meeting was convened on the matter, the Congress had not participated in it but they are also in favour of this now...my effort will be to first talk to all and then take decision," he stressed.
To a question, he termed Prime Minister Narendra Modi's road show on the Delhi-Meerut Expressway on May 27 near Kairana as an attempt to influence the by-election.
"The prime minister participated in a roadshow and in his speech also talked about quota within quota...we say that if you really want to give quota to backwards and most backwards then you first need to have their numbers counted and only then give them their right and honour as per their population. But, since you only wanted to influence the bypoll, you just made a mention of it (in your speech)," Akhilesh said. -- PTI
« Back to LIVE