To avoid disruptions in RS, Naidu forms panel to take re-look into rules
May 07, 2018 22:39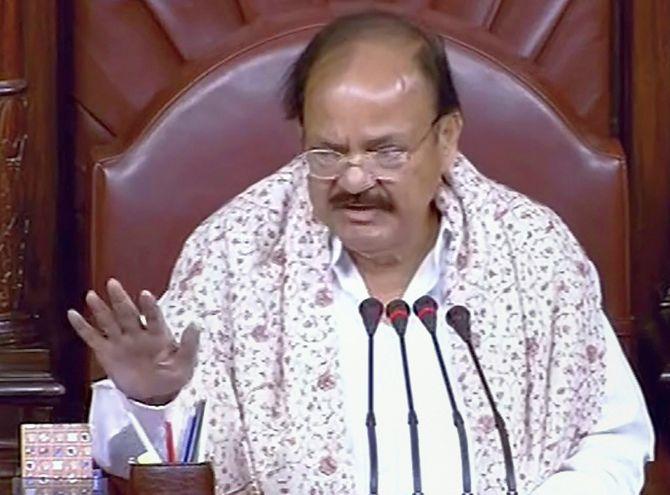 Rajya Sabha Secretary General Desh Deepak Verma said today that a committee has been formed to take a re-look into the rules of the Upper House, including those related to notice of privilege, to increase its productivity.
The two-member committee was formed by Rajya Sabha Chairman Venkaiah Naidu to curtail frequent adjournments and increase the productivity of the Upper House.
Verma said that like the Lok Sabha, there was no provision in the Rajya Sabha for automatic suspension of the members who persistently and willfully obstruct the proceedings of the House by shouting slogans or coming into the well of the House.
And as a result, many a time the Chair is left with no other option but to adjourn the House in the eventuality of grave disorder, he said.
Verma also said that some Rajya Sabha rules related to notice of privilege, points of order, suspension of rules "seem to be inadequate and are not very specific".
Therefore, the chairman has constituted a two-member committee headed by former Rajya Sabha Secretary General V K Agnihotri and retired Joint Secretary and Legislative Counsel in the Law Ministry S R Dhaleta, he said.
"The committee shall review the Rules of Procedure and Conduct of Business in the Council of States, particularly those provisions which seem to be inadequate and (are) not very specific as compared to the rules in the Lok Sabha and suggest suitable amendments," Verma said.
After the last session in which more than 72 per cent of the total allocated time was lost due to disruptions, it was felt that there was a need to make some changes so that the rules "are more effective for smooth conduct of the proceedings and the chairman's hands are strengthened in controlling the proceedings", he added.
"The purpose is to enhance the productivity of the Upper House and curtail frequent adjournments which result in wastage of taxpayers' money," Verma said.
He said that the opinion of all stake holders and political parties would be taken on the recommendations of the panel "so that a robust, fair, and democratic system is put in place to ensure that the time of the House is gainfully utilised".
Verma said that the chairman had on March 28 announced in the House that the Rajya Sabha Secretariat was taking a re-look into the Rules and Procedures and Conduct of Business in the Council of States. -- PTI
« Back to LIVE
TOP STORIES