Released 116.697 tmcft Cauvery water to TN: Karnataka to SC
May 07, 2018 18:35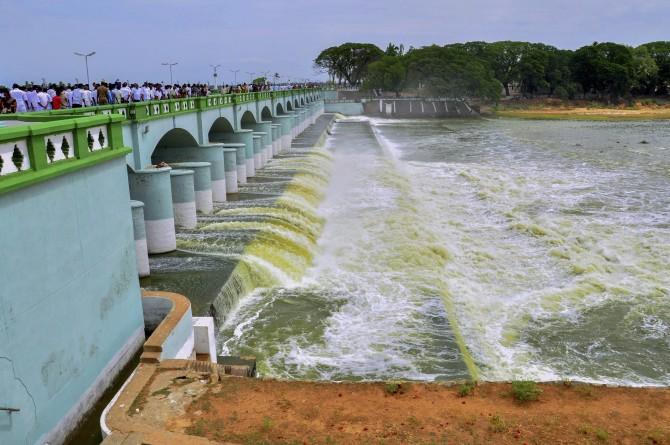 Karnataka today told the Supreme Court that it has supplied 116.697 tmcft of Cauvery water, instead of 100.04 tmcft, to Tamil Nadu by applying the distress formula, even though the current year has been water deficient.
Karnataka, which was hauled up on May 3 by the apex court for not releasing sufficient Cauvery water, today filed an affidavit through its Chief Secretary, claiming that 2017-18 has been a "distress water year in the Cauvery basin" the third time in a row.
However, Tamil Nadu, in its affidavit, today alleged that Karnataka was acting like "a judge of its own cause" and has failed to comply with the order of the tribunal affirmed by the top court. It demanded framing of the Cauvery Management Scheme by the Centre.
In its affidavit, Karnataka said "on applying the alleged distress sharing formula based on 'recorded flow' as relied upon by the state of Tamil Nadu...before this court claiming damages or short supply in distress year 2012-13, the share of Tamil Nadu, at the end of April 2018 at the inter-state border work out to 100.04 tmcft.
"However, Karnataka has ensured 116.697 tmcft at Billigundulu. Therefore, the excess ensured is 16.66 tmcft."
It said that even in the months of March and April of this "distress year", the share of Tamil Nadu "has been met by ensuring 1.4 tmcft as against 1.24 tmcft for March and 1.10 tmcft as against 1.22 tmcft for the month of April. Therefore, Karanataka has not committed any default in ensuring water releases, as alleged."
Karnataka has been reporting the status of water flows to the supervisory committee constituted after the top court's order of May 10, 2013, its affidavit said.
"Even if Tamil Nadu were to draw for drinking water etc, at the rate of 719 cusec for the remaining 28 days in May and 30 days in June (if rainfall is delayed), the total drawls would be 3.60 tmcft. Therefore, there is no shortage for drinking water in the Cauvery basin area in Tamil Nadu," it said.
In its affidavit, Tamil Nadu today alleged that Karnataka has been acting as "a judge of its own cause and fails to comply with the binding order of the tribunal as affirmed by this court." -- PTI
« Back to LIVE
TOP STORIES