Hawaii volcano: Residents allowed to retrieve belongings
May 07, 2018 10:08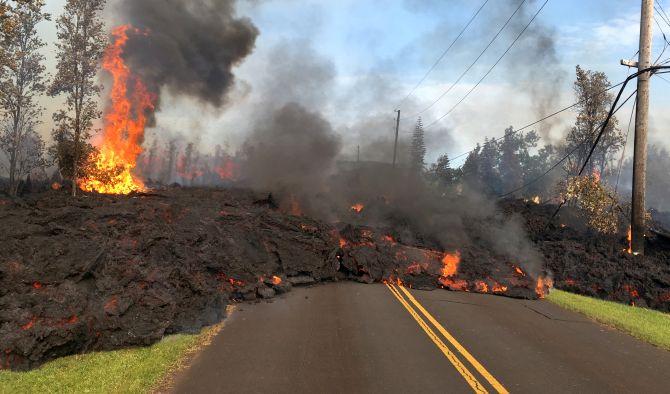 The spewing of lava from the Kilauea volcano in Hawaii's Big Island shows no signs of stopping as 21 homes have been destroyed in the aftermath of the eruption in Leilani Estates, Hawaii County officials said on Sunday.
The figures were confirmed after the officials undertook an aerial survey earlier in the day, according to local media reports.
Geologists say that the ongoing lava outbreak from Kilauea volcano that is inundating Leilani Estates would "continue for some more days and could go on for weeks."
In spite of the destruction, officials have allowed residents to return temporarily to retrieve their belongings. Children were strictly prohibited from entering the affected area.
Hawaii County spokeswoman Janet Snyder said that the rise of sulphur dioxide levels led to a severe deterioration of air quality and advised all to exercise caution.
Hundreds of residents of Hawaii's Big Island continued to flee as lava and molten rocks erupted from Kilauea volcano spewed into the neighbourhoods of the island.
The volcano, which became active, was the result of the Friday's 6.9 magnitude earthquake, and has already driven people out of their homes in Big Island, CNN reported.
"The earthquake, one of the dozens to hit the area in 24 hours, was the most powerful on the island since 1975," the United States Geological Survey said in a statement.
The earthquake led to the opening of cracks in Kilauea volcano's rift zone, an area of fissures, spewing lava near the island's eastern edge and destroying roads, vehicles, and trees in Big Island. -- ANI
Image: Lava advances along a street near a fissure in Leilani Estates, Hawaii.
Photograph: US Geological Survey/Reuters. For more images go here.
« Back to LIVE
TOP STORIES