Relatives of 39 Indians killed by ISIS will occupy Jantar Mantar tomorrow
March 23, 2018 17:59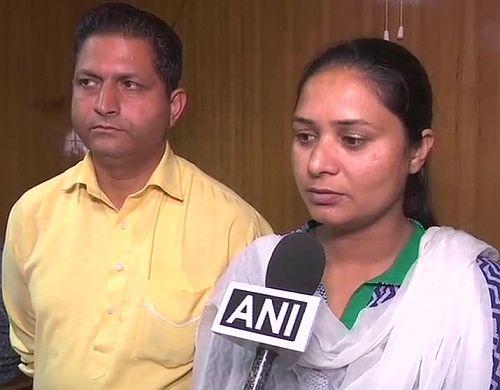 Relatives of the 39 Indians killed by the ISIS in Mosul, Iraq, say they will protest at Jantar Mantar tomorrow.


"We have given government time till tomorrow morning to announce a compensation to secure the future of the families of the deceased. If they aren't able to do it then we'll protest at Jantar Mantar tomorrow, says Vijay Kumar (pictured), brother-in-law of one of the Indians killed in Iraq.


Gurpinder Kaur (pictured), sister of Manjinder Singh, killed in Iraq, said, "We won't have a violent protest, we'll just sit peacefully. The union government hasn't contacted us yet. External Affairs Minister Sushma Swaraj has not replied even after repeated attempts to contact and meet her.


Immediately after Sushma Swaraj's announcement in Parliament that the 39 Indians kidnapped by ISIS were in fact, dead, several relatives of the killed workers said they were not officially informed about their loved ones by any government authority.


"What do we say now?" asked a dejected Sarwan whose 31-year-old brother Nishan was among those killed. "The government kept us in the dark all these years," Sarwan, who belongs to Amritsar, claimed. "Now after four years, they are making such a shocking statement," he said.


"We met the Union minister (Swaraj) 11 to 12 times and were told that as per their sources, the missing Indians are alive. They have been saying that Harjit Masih, the lone survivor, is a liar.


If your sources have been saying they were alive and now suddenly what happened. The government should have told us they have no information about missing Indians rather than making false statements," said Sarwan, who last heard his brother's voice over a phone call on June 21, 2014.

« Back to LIVE
TOP STORIES