Air India's maiden direct flight reaches Tel Aviv
March 23, 2018 09:31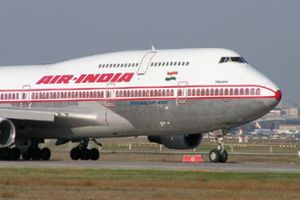 The direct maiden flight of Air India to Tel Aviv from New Delhi arrived yesterday, heralding a new chapter in the India-Israel ties and ending a decades-old overfly ban by Saudi Arabia.
Flight AI 139 landed at Tel Aviv's Ben Gurion airport at 2215 (Israeli time).
"This is really a historical moment... We are in a new era. I am sure that we will see many more Indian tourists coming to Israel...and Israelis would also come to India in much higher numbers," Israeli Tourism Minister Yariv Levin said.

Saudi Arabia's decision to permit Air India to use its airspace has enabled the airline to take a shorter route.
It will cover the distance in 7.15 hours, 2.10 hours less than the time taken by the only other airline that flies between the two countries -- Israel's national carrier El Al.
Many Arab and Islamic nations do not recognise Israel and, therefore, disallow airlines from using their airspace for flight services to that country.
The flight will operate every Tuesday, Thursday and Sunday. While the inaugural flight AI 139 left at 6 pm IST yesterday, the scheduled departure will be 4.50 pm IST from March 25 when the summer schedule comes into operation.
-- PTI
« Back to LIVE
TOP STORIES