French Prez arrives in India, PM Modi welcomes him at airport
March 09, 2018 22:30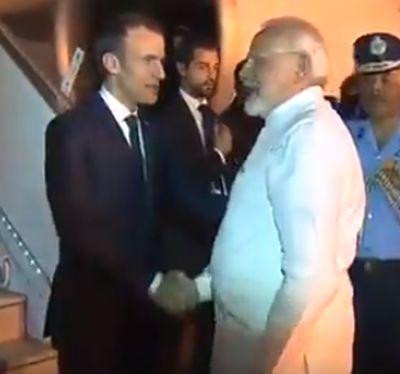 French President Emmanuel Macron tonight arrives India on a four-day India visit.
Prime Minister Narendra Modi personally received Macron and his wife at Delhi airport.
After arriving at the airport, Macron and Modi exchanged greetings and hugged each other.
During Macron's state visit, the two countries would look to boost ties, especially in the areas of maritime security and counter-terrorism.
An agreement on the Jaitapur nuclear power plant, which is being built with French assistance, is expected to be signed during the visit.
Stepping up cooperation in the Indian Ocean will be one of the top issues that will be discussed by Macron and Modi during delegation-level talks tomorrow.
Besides defence, cooperation in the areas of nuclear energy and space are the other pillars of the strategic partnership between India and France.
« Back to LIVE
TOP STORIES