Destruction of Lenin and Periyar statues shows intolerant approach of BJP: Karat
March 09, 2018 16:10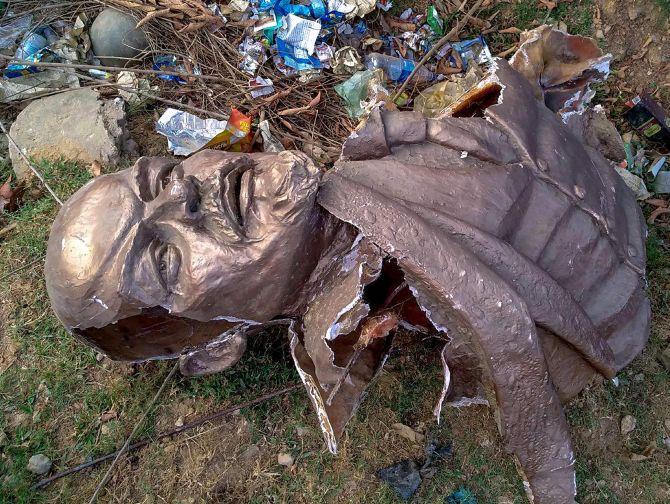 The demolition of communist icon Lenin's statues in Tripura and disfiguring a statute of Periyar EV Ramasamy in Tamil Nadu showed the intolerant approach of the BJP towards any other ideology other than Hindutva, CPI-M leader Prakash Karat said today.
Seven Left parties -- the CPI, CPI-M, AIFB, RSP, CPI-ML, SUCI and CGPI -- took out a march towards Parliament today, protesting against the demolition of statutes, but were stopped by the police.
Addressing the Left workers and supporters at Parliament Street here, former CPI-M general secretary Karat alleged that after winning the Tripura polls, the BJP was trying to use violence against those, who had voted for the Left Front in the state.
"After destroying Lenin's statues, BJP workers in Tamil Nadu destroyed Periyar's statue. In Uttar Pradesh, they damaged a statue of (BR) Ambedkar. It shows the intolerant approach of the BJP. They are not ready to tolerate any other ideology other than Hindutva," he said.
CPI-ML leader Kavita Krishnan, who also addressed the Left supporters, said the social media campaign of the BJP-RSS against Lenin, calling him a foreigner, was not justified at all.
"People from all over the world take inspiration from Mahatma Gandhi's teachings. There are statues of Gandhi all over the world. Are those going to be removed from those countries just because he was a foreigner to them?
"If Bhagat Singh took inspiration from Lenin during the freedom movement, then his struggle was also influenced by Lenin. During the same time, Savarkar was taking inspiration from Hitler and Mussolini. Are Ambedkar and Periyar also foreigners,?" she asked.
-- PTI
« Back to LIVE
TOP STORIES