South, North Korea likely to have summit-level talks in late April
March 07, 2018 00:02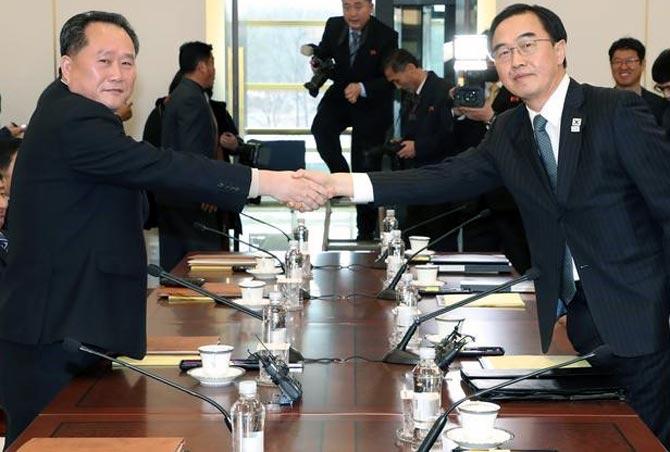 Government sources in South Korea on Tuesday said that summit-level talks with North Korea are likely to take place in late April.
This was indicated by a report filed by a foreign news agency.
It was also reported by the
Yonhap
news agency that North Korean leader Kim Jong-un had an 'open-hearted talk' in Pyongyang with envoys sent by South Korean President Moon Jae-in on Monday night.
This was the first time South Korean officials met with the North Korean leader in person since he assumed power after his father's death in late 2011.
Attempts are being made by the Koreas to try to mend ties after a year of weapons tests and threats of launching a nuclear war by North Korea.
Kim Jong-un expressed his desire to 'write a new history of national reunification' during a dinner Monday night that Seoul said lasted about four hours, North Korea's state media said.
South Korea was reportedly represented by a 10-member diplomatic delegation.
The South Korean delegation was led by President Moon's National Security Director Chung Eui-yong, reports
The Japan Times
.
The move to improve ties between the two Koreas is reportedly aimed at softening or even attempt to convince the United States and other countries to withdraw international sanctions and pressure.
But each new development also raises the possibility that the rivals can use the momentum from the good feelings created during North Korea's participation in the South's Pyeongchang Winter Olympics last month to ease a standoff over North Korea's nuclear ambitions and restart talks between Pyongyang and Washington.
If President Moon Jae-in accepts Kim's invitation to visit Pyongyang, it would be the third time that the two Koreas are meeting for summit-level talks.
The other two were held in the years 2000 and 2007, and the outcome was the launch of a series of cooperative projects.
These projects, however, were scuttled during subsequent conservative administrations in South Korea. --
ANIIMAGE: Head of the North Korean delegation Ri Son-gwon shakes hands with his South Korean counterpart Cho Myoung-gyon during their meeting at the truce village of Panmunjom in the demilitarised zone separating the two Koreas,. Photograph: Yonhap via Reuters
Read yesterday's LIVE commentary
HERE
« Back to LIVE