Hafiz Saeed's son, son-in-law to contest Pak election
June 21, 2018 16:34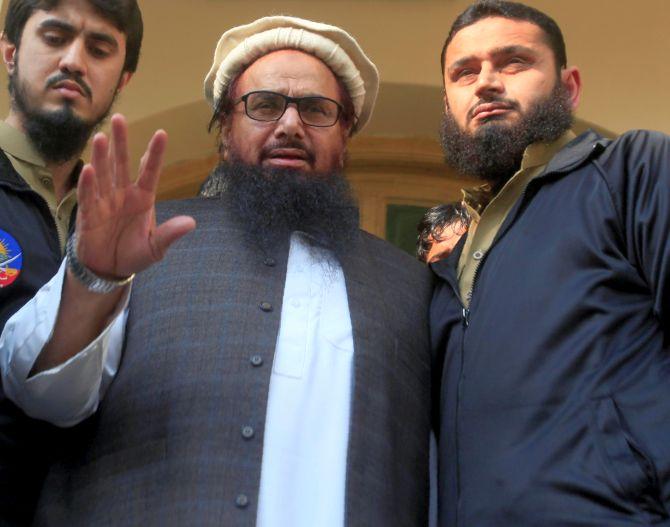 Mumbai-terror attack mastermind Hafiz Saeed's son and his son-in-law are among 265 candidates fielded by the Jamaat-ud -Dawah for national and provincial assembly seats across Pakistan in the July 25 general election, with the banned group's political wing vowing to make the country a "citadel of Islam."
Saeed, who also carries a USD 10 million American bounty on his head for his role in terror activities, is not contesting the election.
The JuD, a front for the Lashkar-e-Tayiba terror group that carried out the deadly 2008 Mumbai attack, launched its political front Milli Muslim League.
The Election Commission of Pakistan denied registration of the MML as a political party following objections from the Interior Ministry which argued that the entity was an offshoot of the JuD, led by Saeed, banned by a UN resolution.
With general elections approaching, the group decided to contest on the platform of a little known "dormant" political entity, Allaha-u-Akbar Tehreek, registered with the ECP.
The nomination papers of all the MML backed candidates have been accepted by the returning officers during the scrutiny process, the MML said.
"The nomination papers of 265 candidates -- 80 on National Assembly and 185 on provincial assembly seats -- including that of Hafiz Saeed's son Hafiz Talha Saeed and son-in-law Hafiz Khalid Waleed have been accepted by the returning officers," a MML official said.
Talha is contesting from NA-91 seat from Sargodha (about 200-km from Lahore) while Khalid Waleed from NA-133 in Lahore on AAT's election symbol 'Chair', he said.
Sargodha is the home town of Hafiz Saeed.
Also, our candidates are contesting on Lahore's four NA seats and 15 Punjab Assembly seats, apart from these, the MML-backed candidates would be contesting on Islamabad and Rawalpindi NA seats, he said.
"Similarly, the MML-backed candidates have been fielded in Karachi, interior Sindh and Kyber-Pakhtunkhawa and other parts of the country," he added.
MML President Saifullah Khalid said that his party would not leave vacuum in July 25 elections for the secular forces as the country was "created in the name of Islam."
"We have entered the political arena not to get power, but to fight corruption, eliminate politics of opportunism, strengthening ideology of Pakistan and making the country citadel of Islam," he said.
Another senior JuD leader, Qari Muhammad Sheikh Yaqoob, who is on the US-designate terror list, has also been given AAT ticket for NA-125 Lahore. In September last year, he had contested a bypoll as an independent candidate on NA-120 Lahore seat, from where wife of ousted prime minister Nawaz Sharif, Begum Kulsoom Sharif had won. -- PTI
« Back to LIVE
TOP STORIES