'Centre is destroying federal system': 4 CMs support Kejriwal
June 17, 2018 08:05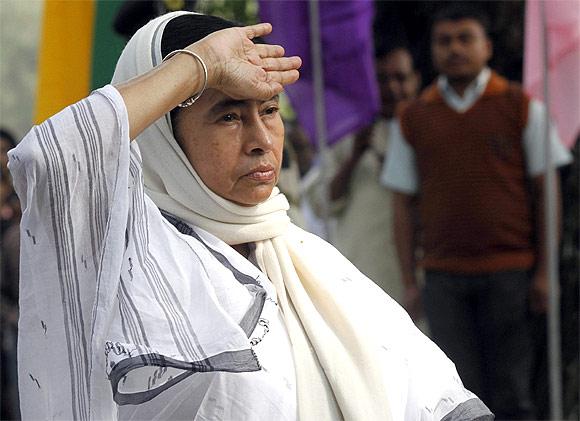 Chief Ministers of West Bengal, Andhra Pradesh, Karnataka and Kerala rallied behind their Delhi counterpart Arvind Kejriwal, who is on a sit-in at the Lieutenant Governor's office for six days, and sought Prime Minister Narendra Modi's intervention in solving what they termed a "constitutional crisis.
After their request for permission to meet the Aam Aadmi Party chief at the LG's office was verbally denied, West Bengal's Mamata Banerjee, Karnataka's H D Kumaraswamy, Andhra Pradesh's N Chandrababu Naidu and Kerala's Pinarayi Vijayan reached the chief minister's home in the evening.
The open support to Kejriwal by the four regional heavyweights - from Trinamool Congress, Telugu Desam Party, Janata Dal (Secular) and Communist Party of India-Marxist - comes amid opposition efforts to cobble together a rainbow coalition ahead of the 2019 Lok Sabha elections.
But the Congress, which has been eyeing a grand alliance of opposition parties, has been slamming the Delhi chief minister for the sit-in at Lieutenant Governor Anil Baijal's office.
Kejriwal and three Cabinet colleagues have been staying put in a waiting room at Raj Niwas, protesting against what they call is a strike by the bureaucrats in the national capital.
"We came here to show our support to Delhi Chief Minister Arvind Kejriwal. We demand that the prime minister interferes and takes necessary steps to solve the problem," Kumaraswamy said.
"I wanted to meet the Delhi chief minister but I was told, verbally, that permission will not be granted. Then four of us wrote to the LG for an appointment, but we were told that he is not there. We were not allowed," Banerjee said.
Earlier, the four leaders met at Andhra Bhawan.
The CMs met Kejriwal's wife, members of minister Satyendar Jain's family and several AAP leaders at the Delhi chief minister's home.
We want this problem to be solved. This has become a constitutional crisis. Ultimately, if this problem is not solved, the people will face issues, Banerjee said.
If this is happening in the capital, then what will happen in other states? We will meet the prime minister tomorrow and request him to intervene and solve the problem," Banerjee said.
The bureaucrats in Delhi are not meeting Delhi ministers as part of their protest against an alleged assault on Chief Secretary Anshu Prakash in February.
They are demanding an apology from Kejriwal for the incident.
At their joint press conference at Kejriwal's home, the CMs said they had come to show solidarity with the protest by the AAP chief.
Pinarayi Vijayan said the Centre must take immediate steps to resolve the issue. "We demand PM's intervention to solve this problem," he said.
He said the situation had developed in this manner because of the attitude of the central government, which is destroying the federal system.
The threat was not just to Delhi government but to the whole country, he said.
Mamata Banerjee said there has been no work in Delhi for the last four months.
We want this issue to be sorted out as there is a constitutional crisis," she said. The people should not suffer due to a political crisis and their mandate should be respected, she added.
-- PTI
« Back to LIVE