AAP alleges workers being stopped, police say no permission for protest march
June 17, 2018 15:38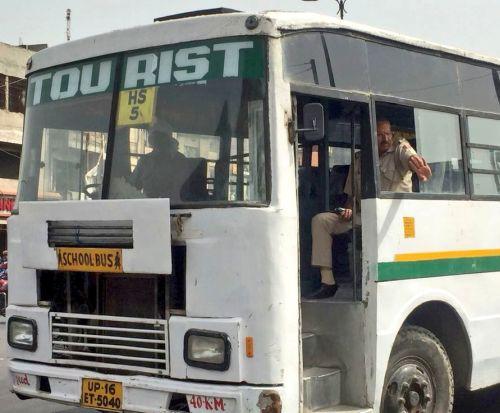 Hours before the Aam Aadmi Party's protest march to the prime minister's residence, the Delhi Police said no permission was sought for it, even as the party leaders alleged that party supporters were being prevented from taking part in the rally.
The AAP is holding the march to support the sit-in of Chief Minister Arvind Kejriwal and his cabinet colleagues at the lieutenant governor's office for the last six days demanding him to direct IAS officers to end their "strike".
The party leader had also accused the Centre of misusing its powers to stop Delhi government from working.
"The call given by the AAP to march towards PM office or residence is without permission. No permission has been applied for. As such the areas under New Delhi district are under prohibitory orders," a senior Delhi Police officer said.
Four Metro rail stations -- Central Secretariat, Patel Chowk, Udyog Bhawan and Lok Kalyan Marg (Race Course) -- will be closed to prevent AAP workers and supporters to reach Mandi House, venue of the march scheduled at 4 pm.
The officer said preparations are made to prevent assembly of the protesters at Mandi House.
"Those trying to take out the march will be detained since no permission has been sought for it," he said.
A senior Delhi Metro official said entry and exit at the four stations falling in Lutyens' Delhi zone have been closed from 2 pm onwards as per the advice of the Delhi Police.
No entry and exit will be allowed at the Lok Kalyan Marg Metro station, closest to the PM's residence, the official said.
However, the interchange facilities will continue at Central Secretariat, he said.
Reacting on the development, the AAP leadership alleged that the Delhi Police was trying to stop people from joining the march.
AAP leader Saurabh Bhardwaj assured the police and the PMO that there will be no violence during the march.
"I assure LG, PMO and Delhi police that there won't be any violence. People just want to tell the PM that the LG appointed by him, is doing injustice to Delhi. He'll also be requested to tell IAS officers, who're on strike since last four months, to come back to work," Bhardwaj said in a press conference.
"Police has got several Metro stations closed down. Barricades have been erected all over Delhi and police is going door to door asking people if they were going for the march. People are being stopped from going for the march," Delhi AAP chief Gopal Rai said.
People, who have gathered at the offices and residences of MLAs, are being stopped from moving to Mandi House, alleged Bhardwaj. -- PTI
Image: AAP member Amit Mishra tweeted this picture claiming that police stopped the bus which was taking party workers to Mandi House for protest march to the prime minister's residence, Photograph: @Amitjanhit/Twitter
« Back to LIVE