WhatsApp hoax leads to lynching of 2 by a mob of 1,500
June 13, 2018 20:40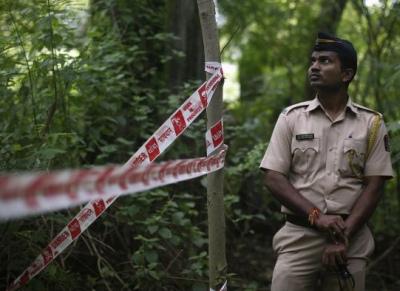 Another incident of lynching allegedly triggered by fake messages in circulation on the social media has come to light, this time from Aurangabad district in Maharashtra, police said today.
According to police, two men were allegedly beaten to death and seven others were injured, one of them critically, after a mob of villagers attacked them on suspicion of being robbers in Chandgaon village in Vaijapur taluka on June 8.
Police said a mob of at least 1,500 villagers allegedly attacked nine men with wooden sticks after nabbing them from near a farm in the village on morning of last Friday.
A Vaijapur police station official said some fake messages about the presence of a 'gang of robbers' were doing rounds on Whatsapp and the incident was fallout of these rumours.
"Following the rumours, villagers were maintaining a vigil in night hours," said Assistant Police Inspector Ram Hari Yadav.
The official said police rushed to the spot after they received a call from a villager, informing that they had caught a gang of 'robbers'.
When police reached the village, they found nine men on the ground who had been brutally assaulted, he said. Police rushed the injured men to the rural hospital in Vaijapur, before shifting them to the GMCH (Government Medical College and Hospital) in Aurangabad, 70 km away from the village.
Yadav said two of the injured men succumbed to injuries on June 9 while another person is battling for life.
The deceased are identified as Bharat Sonavne and Shivaji Shinde, he said.
Police have booked more than 400 villages on charges of murder and attempt to murder in the case.
However, no arrests have been made so far.
Police are investigating the background of the nine men, the official said, adding that details like the reason behind the presence of the men in the village on the day of the incident will come out during the probe.
Aurangabad (Rural) SP Arti Singh today said the lynching occurred in the wake of certain fake messages and posts being circulated on Whatsapp in the village about the presence of a gang of robbers.
The SP said senior police officers have been directed to initiate necessary action to curb such fake messages on WhatsApp and other social media.
In separate incidents of lynching last month, two men were allegedly beaten to death by a group of villagers in Telangana on suspicion of being thieves.
In Assam, two men were pulled out of their vehicle in Karbi Anglong district last Friday and beaten to death by a group of irate villagers, who suspected them to be child-lifters. -- PTI

« Back to LIVE
TOP STORIES