Navy evacuates 38 stranded Indians from cyclone-hit island in Yemen
June 03, 2018 20:10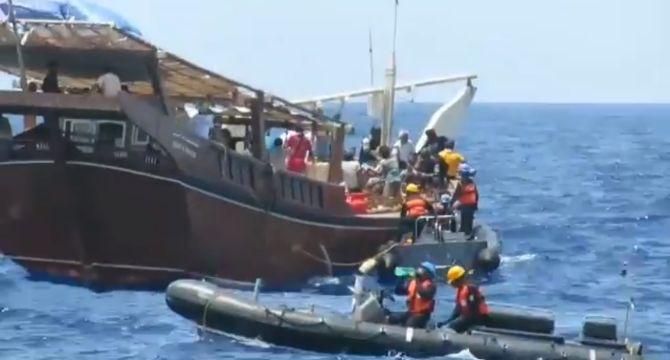 In a swift operation, the Indian Navy today rescued 38 Indians from Socotra island in Yemen where they were stranded for nearly 10 days after a severe cyclonic storm hit the area.
The Navy yesterday had diverted its ship INS Sunayna from the Gulf of Aden to Socotra as part of the operation 'NISTAR' to rescue the Indians, Navy spokesperson Captain D K Sharma said.
He said the stranded Indians were rescued off the coast of Socotra early this morning and are now onboard INS Sunayna, adding all of them were safe.
The ship is bringing the Indians back home.
"The operation, code-named 'NISTAR', was carried out on the morning of June 3 off the coast of Socotra. The evacuated Indians were embarked on board and immediately provided with medical care, food, water and telephone facilities to call and reassure their families at home," Sharma said.
He said the ship is proceeding towards Porbandar in Gujarat.
Cyclonic strom Mekenu had hit Socotra on May 24 leaving a trail of devastation.
"Three Indian dhows (vessel) at Socotra suffered damages/sank alongside in the harbour and another Dhow, MSV Safina Al Khijar with 12 Indians onboard is reported to be missing," said the Navy spokesperson.
INS Sunayna was deployed for the humanitarian and disaster relief operation after the Navy received a distress call from the Directorate General of Shipping and the Indian Sailing Vessels Association.
The Navy had undertaken two aerial sorties on May 28 and 29 to search for the missing Indians. -- PTI

« Back to LIVE
TOP STORIES