Agriculture minister panned for insensitive comment on farmers' protest
June 03, 2018 10:40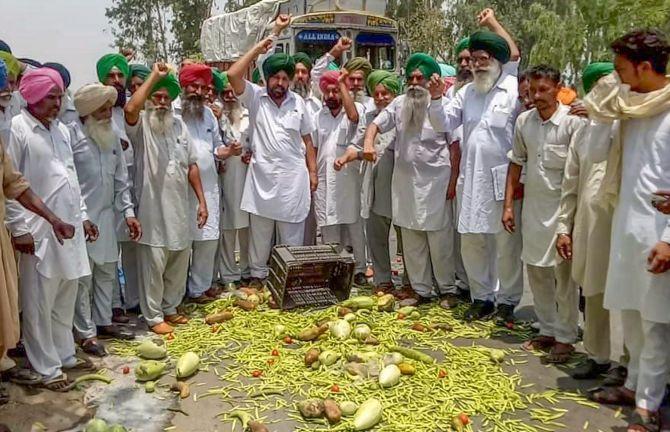 Farmers across several states have launched a 10-day agitation to demand better prices and loan waivers to pull them out of debt traps. They have refused to send their produce to urban centres, at places throwing vegetables and milk on roads as a mark of protest. Union farm minister Radha Mohan Singh spoke his mind on the protests on Saturday. Singh suggested that the protests were an exercise to get media attention.
Singh, the minister for agriculture and farmers' welfare, was sharply criticised by the opposition for what the Congress says are "insensitive remarks".
But he isn't the only senior BJP leader to attempt to run down the protests.
Haryana Chief Minister Manohar Lal Khattar has called the farmers' protests "pointless".
"There is no issue," Khattar said.
"By saying they won't sell farmers' produce they'll only cause losses to the farmers," he said, according to ANI.
The union minister, who was asked about these statements, seemed to agree.
"The country has about 12-14 crore farmers. There will always be organisations with a following of 1,000, 500, 2,000, 40,000, 50,000 farmers. And it requires some unusual deeds to appear in the media. This is natural," Singh said at a media interaction where he highlighted that the production and productivity of the farm sector had improved during the NDA government's four years.
The Congress's RPN Singh said the BJP had promised farmers the moon when they were in the opposition. Once in power, the party only exploited them.
Madhya Pradesh agriculture minister Balkrishna Patidar claimed that farmers in his state were "happy with the schemes that chief minister Shivraj Singh Chouhan launched for them".
"It is 2nd June today. Where is the strike the protests had had no impact," he claimed.
« Back to LIVE
TOP STORIES