Yogi Adityanath scorned by UP BJP MLAs after bypoll loss
June 01, 2018 16:35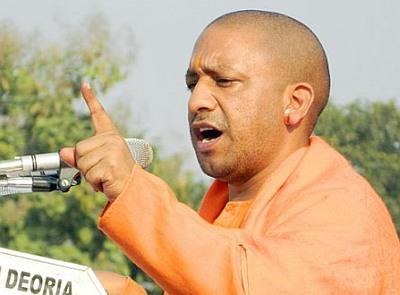 A Bharatiya Janata Party MLA today blamed the ministers in the Yogi Adityanath government for the party's humiliation in Uttar Pradesh bypolls, while another dejected lawmaker resorted to poetry.
Surendra Singh, BJP MLA from Bairia constituency (Ballia district), said if certain ministers in the state cabinet are not removed, the party's downfall in UP is certain.
The other BJP MLA, Shyam Prakash from Gopamau (SC) in Hardoi, posted a satirical poem on Facebook.
"First it was Gorakhpur and Phulpur, and now it is Kairana and Noorpur," the poem began, recalling the string of bypoll losses suffered by the Bharatiya Janata Party in UP this year.
In the bypoll results announced yesterday, a combined opposition wrested Kairana parliamentary and Noorpur assembly constituencies from the BJP.
"For the losses in the bypolls, UP Chief Minister Yogi Adityanath is less responsible. But his ministers are more responsible for the defeat," Surendra Singh told reporters today.
"The style of working of more than 50 per cent of the ministers in Adityanath government is not proper. They do not give any importance to party workers," he said.
"If these minister continue to remain in office, the party's downfall in the state is certain," he added.
Singh said if the grievances of the poor people are not heard at police stations, tehsil offices and block offices, they will not vote for the BJP.
He said the expected improvement had not taken place at these levels, and this could lead to the party's defeat.
"The BJP government has not been able to give a transparent government, the MLA said.
He said he also endorsed the view of senior JD(U) leader K C Tyagi that the rising prices of petrol and diesel were responsible for the BJP's defeat in the recent bye-elections.
Gopamau MLA Shyam Prakash's poem in Hindi said the party came to power invoking Prime Minister Narendra Modi, but could not deliver up to the people's expectations.
"Modi naam se paa gaye raaj, kar naa sake janta man kaaj," it read.
He said the poem does not target the chief minister. "All I want to convey is that the officials are not working as per the intention of the chief minister," he told -- PTI.
« Back to LIVE
TOP STORIES