Nipah scare: Doctors, nurses asked to go on leave
June 01, 2018 15:06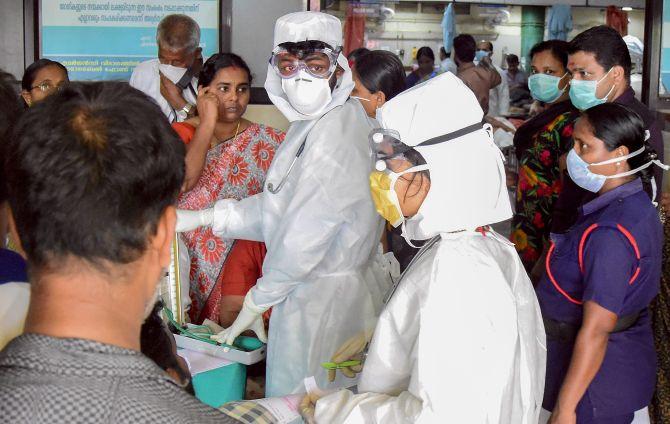 Several staffers, including nurses and four doctors, of a hospital in Balussery have been asked to go on leave from today as a precautionary measure after the death of two people being treated for Nipah virus, officials said.
The virus has so far claimed 16 lives in Kerala's northern districts.
Two people, who succumbed to the virus in the past two days, had undergone treatment at the taluk hospital before being shifted to the Kozhikode Medical College Hospital.
A senior health official said the health staff, including four doctors and nurses, of Balussery hospital who were in contact with the patients were asked to go on leave for a week as a precautionary measure.
Alternative arrangements have been made for the functioning of the hospital, the official said.
Resin, 25, who died yesterday, was initially treated at the Balussery hospital when another Nipah affected patient, Nikhil was undergoing treatment.
The official also said there have been enquiries from various institutions, including the local employment exchange, seeking permission to shut office for the time-being.
The objective was to avoid crowding of people, the official said.
Kozhikode District Collector U V Jose would file a report to the Kerala High Court on the situation in the district in the wake of Nipah virus, a source said.
The report was being finalised, the source said.
Following the death of a superintendent of Kozhikode district court complex due to Nipah, the district bar association asked the collector to stop the functioning of the district court for the time-being.
As a precautionary measure due to the Nipah virus, schools in Kozhikode and Malappuram districts did not re-open today after summer vacation and would commence their new academic session from June 5.
-- PTI
« Back to LIVE