Congress, JDS to contest 2019 polls together, reach K'taka cabinet deal
June 01, 2018 17:51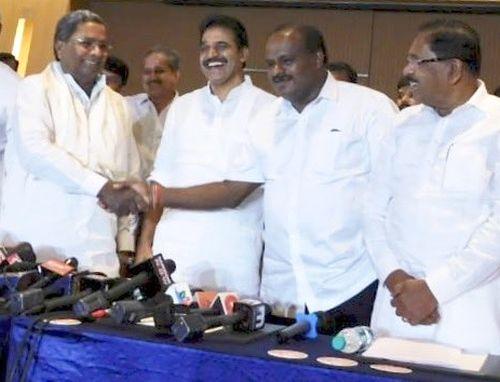 The Congress and Janata Dal-Secular will fight the 2019 Lok Sabha polls together as a pre-poll alliance, Congress general secretary KC Venugopal announced today after the two parties reached an agreement on Karnataka Chief Minister HD Kumaraswamy's cabinet.
The Congress has ceded the crucial finance ministry to the JD-S.
The Congress has got 22 ministries including home, irrigation, health, agriculture and women child welfare.
Apart from finance ministry, the JD-S got 12 ministries which includes PWD, education, tourism and transport.
Kumaraswamy said that ministry expansion will take place on June 6.
« Back to LIVE
TOP STORIES