Outrage over India 'poverty porn' images
July 24, 2018 22:40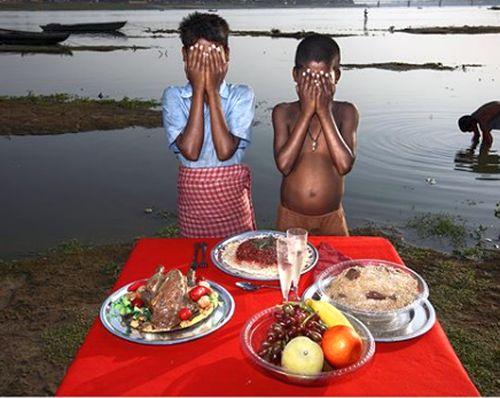 An Italian photographer's series on hunger in India has triggered massive backlash online, with many calling the images exploitative and "poverty porn".
Alessio Mamo posed poor Indians in front of a table with "fake food" on it and made them cover their eyes.
They were shot in two Indian states which have high rates of malnutrition.
The photos, part of a series titled Dreaming Food, were taken in 2011. They went viral after the World Press Photo Foundation shared them on Instagram.
In the caption to his series, Mamo wrote that he "told people to dream about some food that they would like to find on their table". He described it as a "conceptual project about hunger issue in India".
The pictures were posted on to the World Press Photo Foundation account by Mamo who was given control of its Instagram account. The body regularly hands over their Instagram feed to various photographers to run.
It is unclear if the photos shared by Mamo were vetted by the foundation.
Many people on social media blamed both.
In the face of the outrage, the World Press Photo Foundation posted a statement online which said ultimately, photographers are "responsible for selecting their work".
Photograph: @alessio_mamo/@worldpressphoto/Instagram
« Back to LIVE
TOP STORIES