Hindus being targetted, mosques ban women too: Sabarimala board
July 24, 2018 15:26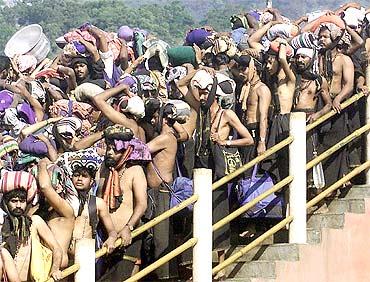 The Supreme Court continues to hear the case barring the entry of women into the Sabarimala Temple in Kerala. This is the fourth day of the hearing. The case is being heard by a bench presided by Chief Justice Dipak Misra and Justices Rohinton Nariman, AM Khanwilkar, DY Chandrachud and Indu Malhotra. Senior Advocate Abhishek Manu Singhvi is making arguments for Travancore Devaswom Board.


The Temple board claims Hindus are being targetted. It says women not allowed inside mosques either. The SC asks, "Is banning women in temples a part of tradition, and if yes, prove that the ban is a part of religious belief?"


Justice Rohinton Nariman referring to the stand of the Devaswom Board in High Court of allowing women for five days in a month said, "The deity cannot suddenly disappear for five days only to reappear later."


Devaswom Board lawyer AM Singhvi said that the object was not to exclude women but due to physiological reasons they get excluded. Anybody with same physiological reasons will be excluded. The test is not how and why women are excluded; The test is whether those who believe in Ayyappa denomination has practiced this for a considerable time in history. This is subject however to whether it is barbaric and illegal.


Justice Nariman asks AM Singhvi how the Travancore Devswom Board how it can justify its contradictory stance.


The top court has earlier maintained that there is no concept of a private temple, and that the Supreme Court will not allow third-party control over the entry of women inside the temple's inner sanctum,


The CJI made the observations a day after the Supreme Court began to hear pleas on the contentious subject of the ban on the entry of women between the age of 10 and 50 years inside the Sabarimala temple.

« Back to LIVE
TOP STORIES