Congress manufacturing fake Rafale controversy: Jaitley
July 24, 2018 18:07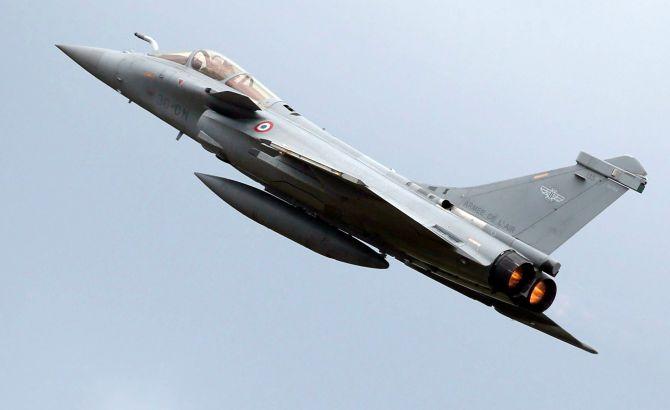 Union Minister Arun Jaitley today slammed Congress President Rahul Gandhi for "manufacturing fake Rafale controversy", which he claimed has failed to cut ice as the fighter jet deal was a government-to-government agreement with no involvement of any private player.
Jaitley also said that in the absence of no real issue, the grand old party is redefining secularism as a euphemism for majority bashing and in the process antagonising the majority against itself.
The Congress party, he said, realises that there is a danger of the next election becoming a referendum on Prime Minister Narendra Modi's performance.
"The popularity gap between the PM and his competitors is very wide," he said, adding that the Congress is either non-existent or a poor third or fourth in states like Uttar Pradesh, Bihar, West Bengal, which account for 50 per cent of the Lok Sabha seats.
The Congress is, therefore, faced with the prospect of effectively contesting only about 225 seats where it will face a direct clash with the BJP, Jaitley said in a Facebook post.
"What does the party do if its leader has inherent and inbuilt limitations? It had been stigmatised by corruption and in contra-distinction Prime Minister Modi has led a scam free Government.
"Its strategy, therefore, is one of distortion. If you have no issue, manufacture one. Hence the Rafale's fake controversy," said the senior BJP leader in the blog titled 'The Congress Party and the fake issue of Rafale'.
He said the Congress strategy is two-fold -- one, it has manufactured the issue of the Rafale deal, and the other pertains to redefining secularism to win"minority vote".
"The issue is failing to cut much ice. It's a Government to Government agreement with no private group involved. It involves national security and it is the armed forces which have preferred this aircraft for its improved combat ability," Jaitley said.
The UPA ministers, he added, also never disclosed the cost breakup of the weaponry because that is not in larger national interest.
"The truth always holds together. It is falsehood that falls apart. So when Rahul Gandhi's statement (during no-confidence debate in Lok Sabha last Friday) that President Macron told him that there is no secrecy pact got smashed into pieces, the next day the Congress Party shifted the Rafale issue to other extraneous grounds," he said.
India had signed an inter-governmental pact with France in September 2016 for procurement of 36 Rafale jets. The delivery of the jets is scheduled to begin from September 2019.
After Gandhi raised the issue in Parliament, France said in a statement that a security agreement it concluded with India in 2008 legally binds the two countries to protect the classified information relating to operational capabilities of defence equipment.
-- PTI
« Back to LIVE