Monsoon session: Left to press for PM's reply on discussion on communal violence, lynching
July 15, 2018 14:24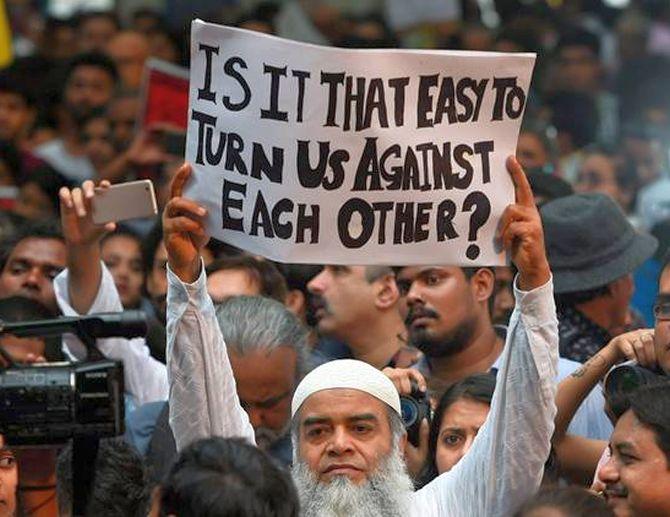 The Left parties intend to corner the government in Parliament on incidents of lynching and communal violence in the country and press for a reply from Prime Minister Narendra Modi in the coming monsoon session.
As they chalk out their strategy for the session, that begins on July 18, the Communist Party of India-Marxist and the CPI alleged that recent incidents of lynching and communal violence have "claimed" many lives in the country and the prime minister should state in the parliament what the government was doing to control the "divisive politics" unleashed by the RSS-BJP.
"We would raise the issues of lynching and communal violence in the country in both the Houses of parliament," CPI-M Lok Sabha member Mohammad Salim told PTI.
He alleged the government was supporting "divisive policies" and the politics of BJP-RSS which is spreading violence in the country and that the party would demand a discussion on this.
"We would certainly demand an answer from the prime minister."
Holding the RSS-BJP and other right-wing outfits responsible for the increasing incidents of alleged hate crime and attacks on Dalits, CPI Rajya Sabha MP D Raja said Modi must answer as to why the SC/ST Act was "diluted" and why so many Dalits are being "killed" across the country.
"The government does not want to touch the right-wing organisations with affiliations to the RSS and the Sangh Parivar. This is a dangerous trend. Definitely, we want the prime minister to answer on the issues of lynching, Dalit killings, the SC/ST Act. People have their apprehensions that why this Act was diluted," Raja said.
Apart from this, the parties have also decided to bring to the fore agrarian crisis focusing on farmers suicides and also the fact that the government ignored the Swaminathan Committee report while announcing the increase in MSP for farm produce.
The left leaders also termed the prime minister's slogan of "Sbka Sath, Sabka Vikas" (together with all, development for all) a completely "bogus" one, and alleged farmers have "not benefited at all" from the recent move of the government.
They said the government needs to tell the Parliament whether they are with farmers or not. -- PTI
« Back to LIVE