Have swallowed pain of coalition govt: Kumaraswamy breaks down
July 15, 2018 10:59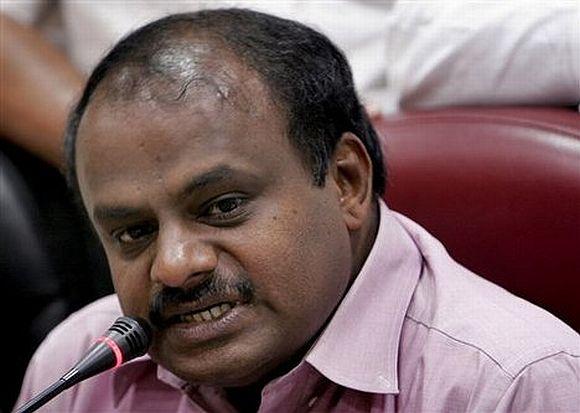 Indications that all may not be well between JD-S and Congress despite showing BJP the door in Karnataka, an emotional H D Kumaraswamy broke down at a public event as he highlighted pains of leading a coalition government.
Without giving out details of possible differences with Congress, Kumaraswamy said that he cannot accept bouquets and garlands for becoming CM of the state because he is unhappy. "While you may be happy thinking that your Anna or Thamma has become the chief minister, let me tell you that Im not. I know the pain of coalition government. I became Vishkanth and swallowed pain of this government," he said, wiping tears from his face.
Kumaraswamy had taken oath as the state CM on May 23 after a bitter battle for power in Karnataka. His party had emerged third -- behind the BJP and Congress -- but when BS Yeddyurappa quit just before a show of strength on the floor of the assembly, Kumaraswamy took the mantle with support from Congress. Things have not been too well since.
While reports of rift have been aplenty, Kumaraswamy himself admitted last month that JD-S and Congress have differences over presenting the state budget. "Some have suggested that let the budget be presented after the parliament election, so there are issues," he had said while also asking Congress president Rahul Gandhi to intervene in the matter.
Kumaraswamy had previously also said that he is at the mercy of Congress. "The people of the state rejected me and our party. I had sought an absolute majority. Today, I am at the mercy of the Congress. I am not under the pressure of the 6.5 crore people of the state," he had said before clarifying that he meant no disrespect to people of the state.
« Back to LIVE