Kejriwal meets Rajnath, says Centre should obey SC verdict in totality
July 11, 2018 22:23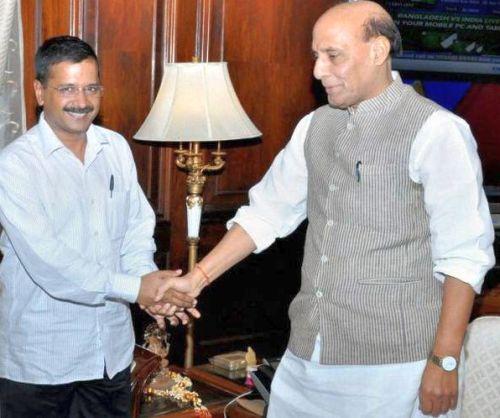 Locked in a long-running confrontation with the Centre over administrative powers, Delhi Chief Minister Arvind Kejriwal today met Union Home Minister Rajnath Singh to press upon his government's claim to decide bureaucratic postings and transfers and said the BJP leader appeared "satisfied" with his view.
Kejriwal, accompanied by Deputy Chief Minister Manish Sisodia, met Singh at his residence in New Delhi to assert that his government has power over 'services' matter following the Supreme Court's recent verdict and that the Centre and Lt Governor should obey the order in totality.
After the meeting, Kejriwal said Singh's "gestures" showed that he was satisfied with his view and the union minister would discuss the matter with his officials.
The home ministry officials, however, later said that Singh conveyed to the chief minister that the ministry will take legal opinion on the issue.
Speaking to reporters after the meeting, Kejriwal said, "We told him (Singh) that the Centre and the LG are interpreting the Supreme Court order in a strange manner. They are saying that they will obey half of the order but not the other half."
The Supreme Court verdict, which restricted the jurisdiction of Lieutenant Governor of Delhi to matters of land, police and public order, has been used by the AAP government to claim control over services matters including transfer and posting of officers of Delhi government.
Hours after the Supreme Court's landmark judgement on July 4, the Delhi government introduced a new system for transfer and postings of bureaucrats, making the chief minister the approving authority.
However, the services department refused to comply, saying the Supreme Court did not abolish the notification issued in 2015 which made the Minister of Home Affairs the authority for transfers and postings.
Kejriwal said he told the union home minister that the Centre should either obey the entire verdict of the apex court's constitution bench or it should wait till the division bench comes out with its order.
"How can you say that you will obey half of the Constitution bench order and half of division bench order," he said.
The chief minister said he read out the verdict, para by para, to the Home Minister and he seemed satisfied with what he told him. -- PTI
« Back to LIVE
TOP STORIES