Shopian deaths: Army Major's father moves SC seeking to quash FIR
February 08, 2018 14:49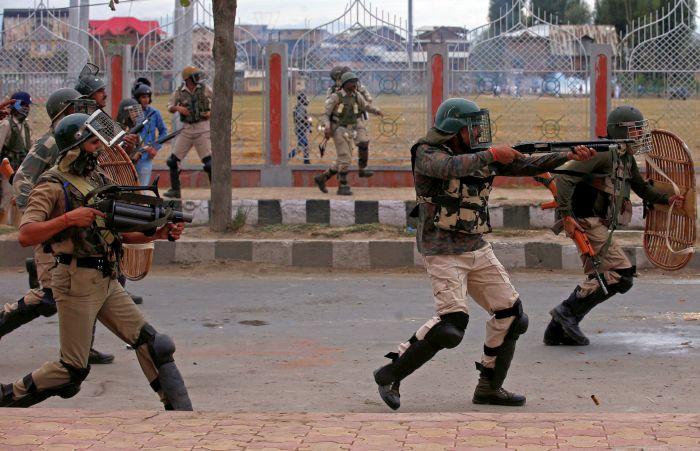 The father of Army Major Aditya Kumar, booked by the Jammu and Kashmir Police in the firing incident in Shopian, has moved the Supreme Court seeking quashing of the FIR against his son. Lieutenant Colonel Karamveer Singh said his son, a Major in the 10 Garhwal Rifles, has been "wrongly and arbitrarily" named in the FIR as the incident relates to an Army convoy on bonafide military duty in an area under the AFSPA, which was isolated by an "unruly and deranged" mob pelting stones causing damage to military vehicles.


The plea, filed through advocate Aishwarya Bhati, said the intention of his son was to save Army personnel and property and the fire was inflicted "only to impair and provide a safe escape from a savage and violent mob engaged in terrorist activity".


The unruly mob was requested to disperse and not obstruct military in performance of their duties and not to damage government property but when the situation reached beyond control, a warning was issued to disperse, the plea said.


As the unruly behaviour of the "unlawful assembly" reached peak and when they got hold of a Junior Commissioned Officer and were in the process of lynching him to death, warning shots were fired fire to disperse the violent mob and protect public property, it submitted.


Singh also referred to last year's incident of a mob lynching of DSP Mohd Ayub Pandith to apprise the top court about the situation in the state and the condition in which Army officials were working to control violent mobs in Kashmir.


"The petitioner is constrained to file the present writ petition for quashing of FIR, directly before this court in view of the extremely hostile situation on the ground, whereby an FIR has been registered by local police against the son of the petitioner, who is a service Army officer and was performing bonafide duties as directed by the Union of India.


"The manner in which the lodging of the FIR has been portrayed and projected by the political leadership and administrative higher-ups of the State, reflects the extremely hostile atmosphere in the State. In these circumstances, the petitioner is left with no other viable option but to approach this court under Article 32 of the Constitution for protection of Fundamental Rights of his son and himself, enshrined under Article 14 & 21 of the Constitution," the plea said.


The FIR was registered against the personnel of 10, Garhwal unit of the Army including Major Kumar under sections 302 (murder) and 307 (attempt to murder) of the Ranbir Penal Code. Two civilians were killed when Army personnel fired at a stone-pelting mob in Ganovpora village in Shopian, prompting the chief minister to order an inquiry into the incident. -- PTI


Representational image.

« Back to LIVE