Only time will tell, says Rajini on tying-up with Haasan
February 08, 2018 16:06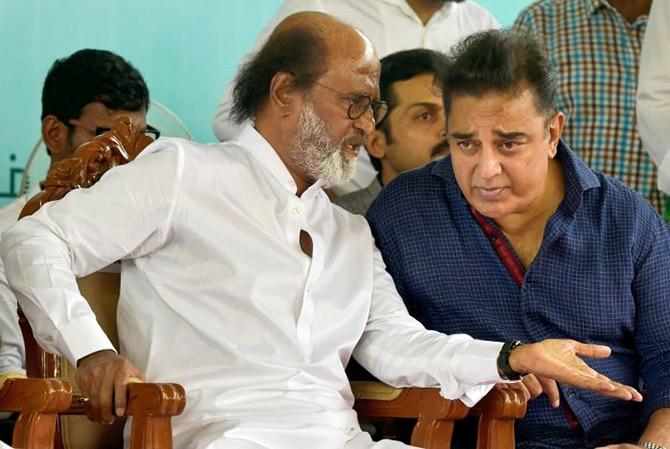 Leading Tamil actor Kamal Haasan, who is all set to foray into politics soon, today said he and superstar Rajinikanth needed to contemplate if it was necessary for them to join hands and face the election. Asked for his response, Rajinikanth, who announced his political entry on December 31 last year, told reporters that only time will tell if he will join hands with Haasan during their political journey.


"I (have) already told you. Only time will answer all these questions," Rajinikanth said. To a question on facing the next Lok Sabha polls, Rajinikanth said he will take a decision at the "appropriate time."


Referring to his remarks that "system is rotten" and whether it referred to Tamil Nadu or India, he said "first of all, in Tamil Nadu you have to correct it."


On January 17 too, to a query on forging ties with Haasan, Rajinikanth had said "only time will be able to tell that. Let us see in due course of time." In his weekly column in Tamil magazine 'Ananda Vikatan,' Haasan said both of them were being asked repeatedly if they would face the polls together and added that he endorsed the view of Rajinikanth in this respect.


"Rajini sir, to this question had said that only time will give an answer and I had seconded that view. Truly, only time will answer," he said.


Haasan, who is set to unveil his political party's name and go on a political tour on February 21, said both of them should first formally launch their respective political parties. Following this, policies should be spelt out and it needed to be seen if these were compatible, he said.
« Back to LIVE