Only Rahul can take on Modi in 2019, dethrone BJP: Congress
February 08, 2018 18:13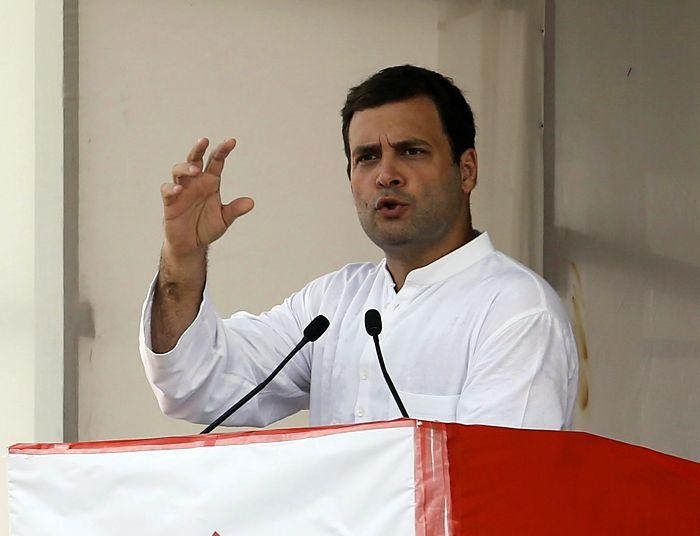 Congress president Rahul Gandhi is the only person who can take on Prime Minister Narendra Modi in the 2019 polls and his attacks on the governments failures are galvanising the opposition, party leader Sachin Pilot has
said.
The BJP was running away from answering questions but Rahul Gandhi was forcing it to be accountable, the Congress' Rajasthan unit chief said.
Support for the Congress president's leadership also came from Sonia Gandhi who said in her address to the Congress Parliamentary Party today that Rahul Gandhi was her boss too, and asked party MPs to work with him to strengthen the party.
"Mr Gandhi is relentlessly taking on the BJP leadership for all its failures (and) that is giving a lot of energy and confidence to opposition forces," Pilot told PTI.
"He is the only person who is going to be able to take on Mr Modi and mount a formidable challenge to dethrone the BJP in 2019," said Pilot, under whose leadership the Congress won the key Rajasthan bypolls recently.
The way the Congress president has been aggressively taking on the BJP for its failures has attracted many anti-BJP forces and is galvanising the opposition, he said.
According to Pilot, the BJP was becoming "nervous" with Rahul Gandhi constantly asking them questions on the promises made by them.
"It's very easy to give a sermon and monologue but when you are asked questions on past performance, on data, on promises made, that is when the BJP loses it nerve. That is exactly what Mr Gandhi has been able to do," the 40-year-old leader said.
On whether Rahul Gandhi was the best choice for leading an alliance against the NDA in 2019, Pilot said, "I will only say this much -- that nationally the only party that can challenge the BJP is the Congress party and under Rahul Gandhi's leadership it is now fully geared up to take on the BJP whenever the Lok Sabha elections happen." -- PTI
« Back to LIVE