Army kids move NHRC against stone-pelting at personnel
February 08, 2018 22:01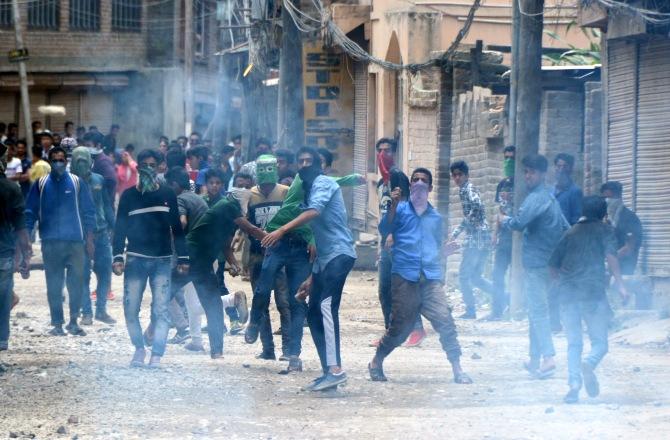 At a time when FIR against armymen and withdrawal of cases against stone-pelters is a subject of hot debate in J-K, children of two army officers took an unprecedented step to move the National Human Rights Commission, asking it to protect army personnel's human rights being violated daily by stone-pelters.
Preeti, Kajal and Prabhav, children of two Lt Colonels and a retired Naib Subedar, presented NHRC chief Justice H L Dattu with a complaint, which complimented the apex human rights body and Amnesty International for zealously protecting the human rights of locals in disturbed areas of J-K but complained that they are turning a blind eye towards the plight of army personnel who face threat to life daily from stone-pelters.
They said a sub-optimal war was being waged in J-K since independence and the state as well as the Centre have decided to enforce AFSPA to require army to assist the 'failed state machinery'.
"The Army has been deployed in J-K since the state machinery was incapable of handling the law and order situation. But the irony is that the very administration which the Army seeks to assist and support has failed to safeguard the human rights of the armed forces personnel," their petition said.
Referring to the Shopian incident of Army personnel firing in self-defence and registration of FIR against them, they asked why no FIR has been registered against stone-pelters and only against soldiers who were acting in self defence. The petitioning children told NHRC that Shopian was not an isolated incident and recounted five such FIRs lodged against armed forces personnel for taking action to secure the area from militants and stone-pelting crowd. They said neither the state government nor the Centre did anything to protect them.
« Back to LIVE
TOP STORIES