What BJP did after 2002 riots?: Cong after Rahul's remarks on 1984 riots
August 26, 2018 18:54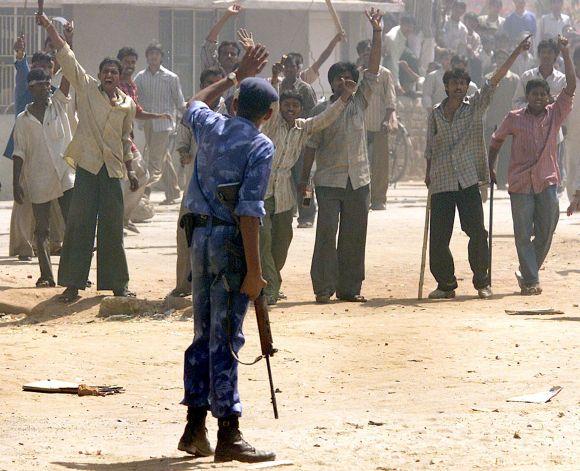 Drawing flak for Rahul Gandhi's remarks that the Congress was not involved in the 1984 anti-Sikh riots, the party today listed steps it had taken after it and said its opponents should not sensationalise tragic events for political gains.
Congress spokesperson Abhishek Singhvi was reacting to the Shiromani Akali Dal's comments that the Congress president's remarks on Sikh riots have "rubbed salt into the wounds" of the Sikh community.
Gandhi, who was on a two-day visit to the UK, told an audience of UK-based parliamentarians and local leaders on Saturday that the incident was a tragedy and painful experiences, but disagreed with the view that the Congress was "involved".
"Constantly distorting what Rahul Gandhi says is not going to convert untruth and lies into truth," Singhvi said, noting that their opponents should not sensationalise tragic events for political gains.
He listed what the Congress did after the riots and asked the SAD to tell what their partner BJP did after the 2002 riots in Gujarat.
"The Congress party from this forum and all over the country at least a thousand times has condemned that tragic episode, calling it the most unfortunate event, condemned it and never in the remotest sense directly or indirectly supported it. Even the prime minister of that time had apologised," he said.
He also said that many senior leaders suffered serious harm in their political careers in the context of their alleged association with that event.
"A large number have faced criminal prosecution, some have been convicted, some are pending but the Congress has never interfered," he said.
He said the Akali Dal should ask if Prime Minister Narendra Modi, who was Gujarat Chief Minister in 2002, and BJP president Amit Shah had done after the riots in Gujarat what the Congress did after 1984. -- PTI
« Back to LIVE
TOP STORIES