Was Vajpayee's death announced late, asks Shiv Sena's Raut
August 26, 2018 20:41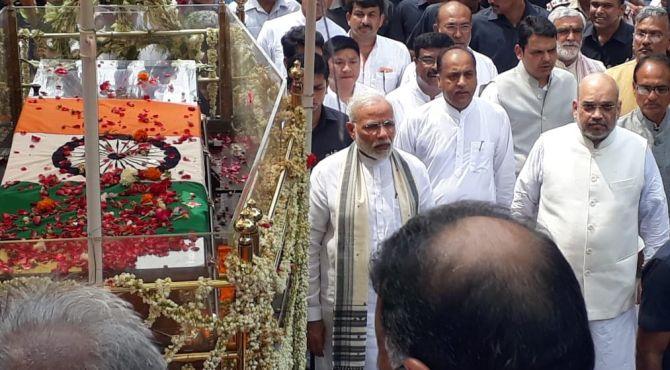 Senior Shiv Sena leader Sanjay Raut today questioned whether former Prime Minister Atal Bihari Vajpayee died on August 16 or if his death was announced that day to ensure Prime Minister Narendra Modi's Independence day speech was not disrupted.
Raut, a Rajya Sabha member who is also editor of the Sena mouthpiece Saamana, gave no explanation or reason for questioning the day of Vajpayee's death that was announced by India's premier hospital, the All India Institute of Medical Sciences, which also gave his time of death on August 16.
"Rather than our people, our rulers should first understand what is swarajya (self-rule). Vajpayee died on August 16, but from 12-13 August, his condition was deteriorating. To avoid national mourning and lowering of flag to half-mast on Independence Day, and also (as) Prime Minister Narendra Modi was to make his elaborate speech from the Red Fort, Vajpayee left this world on August 16 (or his death was announced)," Raut said.
The article in Marathi is titled "What is swarajya?".
Though Shiv Sena is an alliance partner of the BJP at the Centre as well as in Maharashtra, it has been taking swipes at the saffron party and Modi.
Raut, in the article, said National Conference leader Farooq Abdullah shouted "Bharat Mata Ki Jai"and "Jai Hind" at a condolence meeting for Vajpayee, and for this reason he was manhandled in Srinagar.
"And the government shielded the culprits. This new kind of freedom has now emerged," the Sena MP wrote.
"When it is learnt that police have captured terrorists who had planned to carry out attacks in Delhi, it tells you that Independence Day is nearing.
"This tradition continued this year too. Ten terrorists who wanted to sabotage Independence Day celebrations were arrested. Huge cache of arms was seized. So (afterwards) the prime minister celebrated Independence Day fearlessly," Raut added.
"Prime Minister Modi made several announcements for the poor (in his Independence day speech). The tone of his speech suggested that previous governments did nothing, so the freedom (until now) was a waste," Raut wrote.
He said though the prime minister says people who take bribe are facing action, bribery has not decreased.
"..It is true that welfare schemes are run on the tax which honest people pay. It is also true that Prime Minister's foreign tours are funded by the same money, and thousands of crores are spent on advertisements from the same money. This is how the new swarajya is functioning," the Sena leader wrote. -- PTI
« Back to LIVE
TOP STORIES