Security expenses on BJP chief can't be disclosed: CIC
August 26, 2018 16:09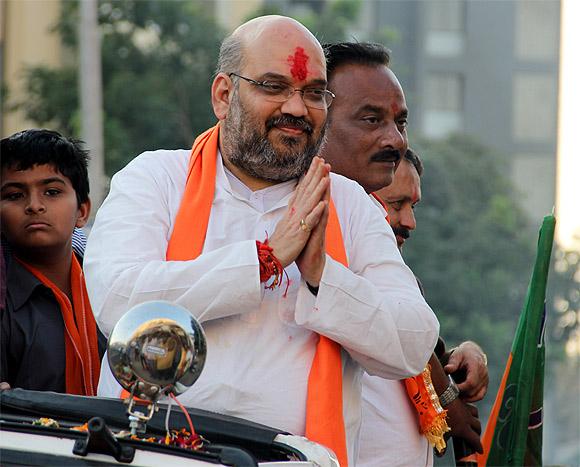 Expenses incurred on the security cover of Bharatiya Janata Party president Amit Shah cannot be disclosed, the Central Information Commission has held citing RTI Act exemption clauses of "personal information" and "safety".
The commission has denied the appeal of a petitioner who had also sought to know the rules governing extension of security cover to a private individual and the authorities, which foot the bill of such cover to a private individual.
The application was filed by Deepak Juneja on July 5, 2014, when Shah was not a member of the Rajya Sabha.
He had also sought to know the list of people who have been given security by the government.
The information was denied by the Home Ministry citing Section 8(1)(g) that exempts from disclosure information that would endanger the life or physical safety of any person.
The ministry had also cited Section 8(1)(j) of the RTI Act, which exempts information that is personal, would cause unwarranted invasion of privacy and is not linked to any "public activity".
In its previous order in the matter, the CIC had upheld denial of information as it was not disclosed before Parliament.
Juneja challenged the CIC order in the Delhi high court where Justice Vibhu Bakhru set aside the transparency panel's order stating that the commission was first required to examine whether information sought by the petitioner was exempted under clauses (g) and (j) of Section 8(1) of the RTI Act.
It lobbed the matter before the CIC again to consider private contentions in the light of the exemption clauses of Section 8(1) of the act.
The commission again heard Juneja and the home ministry in the matter.
Juneja submitted that the grant of security cover to eminent persons under threat is the duty of the state in cases where the beneficiary holds a high office as they cannot perform their vital functions while reeling under threat, Information Commissioner Yashovardhan Azad noted in the order.
However, the appellant submits that defraying cost of elite Z+ security cover to private persons must not be from the state exchequer, Azad pointed out.
"Amit Shah, who happens to be the national president of the Bhartiya Janta Party has been granted Z+ security cover by the MHA since July 2014 despite him not being holding any constitutional or statutory office," Juneja said, adding that since it was public money he has the right to know.
The ministry said the respondent's contention is that revelation of expenses incurred in providing security cover would reveal the intricacies, and magnitude and rigour of security cover.
It said rules governing the entitlement of grant of security cover and process of threat assessment among others are framed in consultation with central security agencies, which are exempted from the purview of the RTI Act, and disclosure would nullify the exemptions.
« Back to LIVE
TOP STORIES