Kerala fears 4 to 5% decline in tourist arrivals due to floods
August 26, 2018 16:33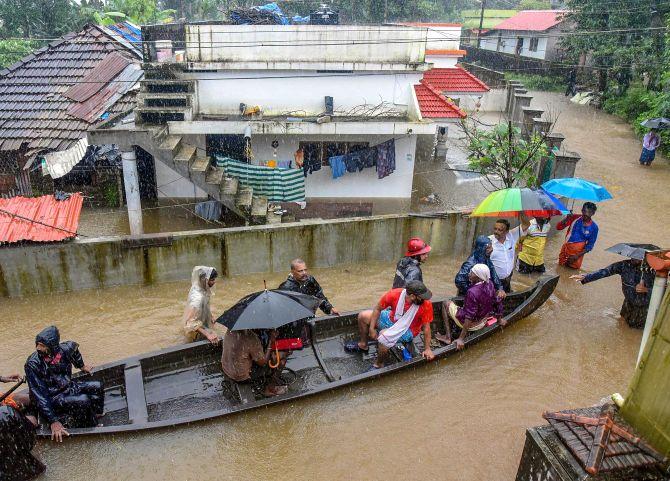 Flood-ravaged Kerala, for which tourism is the mainstay of its economy, is staring at 4 to 5 per cent decline in footfalls if the sector does not pick up from October, a senior tourism official has said.
The state is reeling under devastating floods, the worst since the 1924 deluge, which has left over 230 people dead and pushed over 1.5 million people into relief camps.
The busiest airport in Kochi has been shut since August 16 and is expected to resume operations only from August 29.
The Kochi and Ernakulum regions, which have been under the waters for almost two weeks, alone accounts for around 52 per cent of all tourism in the state, according to a Care Rating report.
"We had a good first quarter with a full 17 per cent growth. However, the second quarter saw a 14 per cent decline in footfalls due to the Nipah virus that struck the state in April-May," Kerala Tourism director P Bala Kiran told PTI over phone from Thiruvananthapuram.
"August and September were completely washed out as we saw huge cancellations due to the massive floods, which will impact business in the tourist state," he said.
However, he said, if things start picking up from October, there may still be growth.
"If things do not pick up in October, we are likely to witness a 4 to 5 per cent decline over last year," he warned.
Kerala had witnessed 10.94 per cent growth in 2017, compared to the previous year, with 1.91 million foreign travellers and 14.6 million domestic tourists visiting the state.
Tourism contributes over 10 per cent to the state GDP.
Meanwhile, Kerala was promoting the Neelakurinji blooming in Munnar, which is still cut off from the rest of the state due to many landslides.
The Neelakurinji blooms once in 12 years and has been a big draw for local public and of late, the tourism department has been promoting it to incoming tourists as well. The season was supposed to begin next month.
However, Kiran said it is a lost opportunity this year as Munnar mostly remains cut off from the outside world, while Alappuzha, the land of houseboats and lagoons, is still flooded.
These are among the worst affected seven districts of the state.
"The flowering usually begins 15 days after the rains in August. We saw a great demand but stopped bookings as rains continued in August as well," he added.
The deluge has forced the state to cancel the decades-old Nehru Trophy boat race, which has been a big tourism draw, especially among foreigners, for many years now.
The Alleppey snake boat race in the Vembanadu lake was made famous by the regular attendance of the country's first prime minister, Jawaharlal Nehru, and used to be annually held in the middle of August. -- PTI
« Back to LIVE
TOP STORIES