Dalits, Muslims, women, press are living in fear today: Chidambaram
August 26, 2018 13:57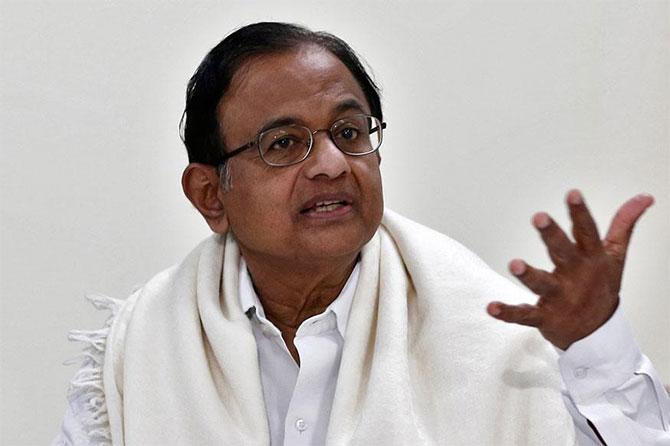 Senior Congress leader P Chidambaram has said that a formidable alliance of opposition parties can be stitched together to defeat the Bharatiya Janata Party and free India from the "reign of fear" in the 2019 Lok Sabha election.
Chidambaram, however, avoided directly answering a question on the leadership issue or who would be the prime ministerial candidate of the alliance, saying it is a premature question.
"Let us form the alliance and let the elections take place. All of you want to know the answer even before the script is written," he said.
The former finance minister said the most important issue on which all opposition parties agree to is that the saffron party should be defeated.
"On that point, there is a convergence of views in many states like Tamil Nadu, Kerala, Maharashtra, West Bengal, Bihar, etc. That convergence will bring together opposition parties and alliances will be formed state-wise," Chidambaram told PTI in an interview here.
He said for the first time, "we are witnessing a sense of fear" among a large section of people in the country.
"The Dalits live in fear, the Muslims live in fear, the women live in fear, the press live in fear," he said.
"We are moving away from the accepted democratic rights and democratic positions. This is a dangerous trend for the country. We wanted freedom (from British rule) because we want to live without fear. And today, a vast section of the country lives in fear and this has to end," Chidambaram said.
Asked whether the Congress will replicate the Karnataka model, where despite being the largest party in the Congress-Janata Dal Secular alliance it gave away the CM's post to JD-S to keep the BJP at bay, he said it is too early to comment on it.
"Karnataka was a state election. We talked about Karnataka after the election results were announced. Now, the major challenge is the Parliament election and eight months ahead of the polls, we can't talk about what will happen after election.
"There will be alliance in each state depending upon the context of the state... The alliance has to be state-specific. So I think a formidable alliance can be stitched together state-wise for the Parliament elections," he said.
On reports of certain opposition parties like the Telangana Rashtra Samiti and the Trinamool Congress not being very comfortable with the Congress leading the front, Chidambaram said it is advisable to wait till the election and the alliance talks to begin.-- PTI
« Back to LIVE
TOP STORIES