Body of witness in Unnao rape case exhumed
August 26, 2018 09:56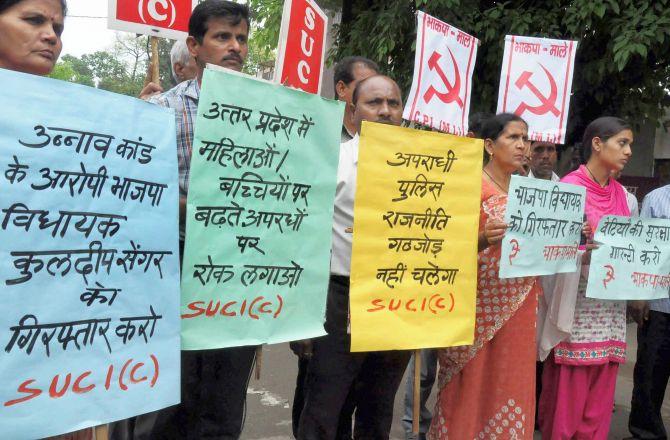 The body of Yunus, a witness in the Unnao rape case who died recently, was exhumed on Saturday, officials said.
"The body of Yunus was exhumed tonight and it was sent for post-mortem examination. The body was exhumed in presence of Qazi sahab (religious leader)," Unnao Additional District Magistrate BN Yadav told PTI.
Earlier in the day, district authorities met relatives of the witness seeking consent to exhume his body for a post-mortem examination.
Yunus was a witness in the case registered after the death of the father of a minor who was alleged rape by Bharatiya Janata Party MLA Kuldeep Singh Sengar.
The victim's father died in April after being beaten up, allegedly by Sengar's brother and others.
The victim's uncle had alleged foul play after the death of Yunus last week.
Meanwhile in Lucknow, the family members of Yunus wanted to meet Chief Minister Yogi Adityanath on Saturday.
"The family members of Yunus had come to Lucknow and were adamant about meeting the CM and getting inside his residence. Police have taken them to Hazratganj Police Station, so their grievances can be heard, and the district concerned be informed about it," SHO Gautampalli Police Station Vijay Pandey said.
On Twitter, Congress president Rahul Gandhi termed the death 'mysterious' and his burial 'hurried'.
The man's family, however, said he had died due to a liver ailment for which he was being treated.
Sub-divisional magistrates from Hasanganj and Unnao Sadar met the family members on Saturday, officials said.
But Jaan Mohammad, brother of Yunus, told reporters at the district collectorate that the family was against exhumation.
"The administration is building pressure on us. We do not want the post-mortem examination to be done as it is against our Shariat," he had earlier said.
Yunus had claimed to have seen the rape victim's father being beaten up by the brother of the BJP MLA.
The victim's uncle had written to the police on Wednesday, demanding a post-mortem examination.
Earlier, the police had said the family members had submitted medical prescriptions, indicating the man was undergoing treatment for liver cirrhosis.
His brothers had claimed the victim's uncle said they would get Rs 10-12 lakh if they agree to the post- mortem examination. -- PTI

« Back to LIVE
TOP STORIES