Amarnath Yatra concludes, over 2.85 lakh pilgrims offer prayers
August 26, 2018 20:09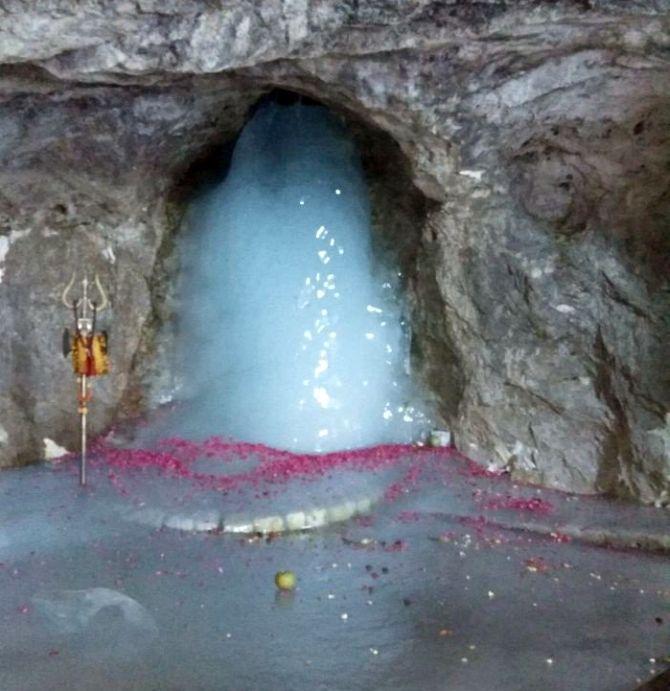 The annual pilgrimage to the Amarnath cave shrine in the south Kashmir Himalayas concluded today with over 2.85 lakh pilgrims offering prayers at the naturally-formed ice-shivlingam.
According to officials, a total of 2,85,006 people paid obeisance at the cave shrine during the pilgrimage which commenced on 28 June through Baltal and Pahalgam routes.
They said 38 people, including pilgrims, service providers and pony-wallas, died during the course of the yatra this year.
The deaths were due to weather-related incidents or natural causes, the officials said.
The number of pilgrims who performed the yatra this year is higher than last year. A total of 2.60 lakh pilgrims offered prayers at the shrine last year.
Various security measures were taken this year for the smooth conduct of the yatra.
For the first time, the government used radio frequency tags to track Amarnath-bound vehicles, while the Central Reserve Police Force introduced motorcycle squads with cameras and various life-saving equipment.
The security was heightened for this year's yatra in view of the militant attack on a bus carrying pilgrims last year that left eight of them dead and 18 others injured.
Around 40,000 security personnel from the Jammu and Kashmir Police, paramilitary forces, National Disaster Response Force and the Army were deployed for this year's pilgrimage, the officials said.
They said the yatra this year was peacefully.
The holy mace of Lord Shiva, popularly known as 'Chhari Mubarak', carried by a group of sadhus and devotees led by its custodian Mahant Deepindra Giri, arrived at the holy cave in the wee hours for the day-long prayers, the officials said.
The group of sadhus and devotees trekked 42 kilometres from Pahalgam to reach the cave shrine with night halts at Chandanwari, Sheshnag and Panchtarani. -- PTI
Photograph: ANI
« Back to LIVE
TOP STORIES