Congress questions defence preparedness under NDA govt
August 22, 2018 00:12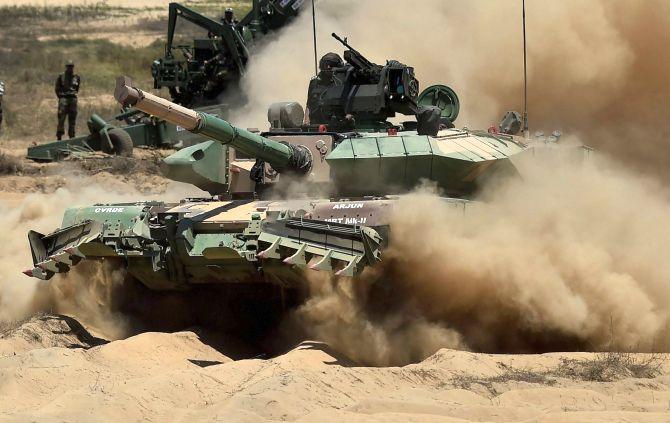 The Congress on Tuesday expressed serious concern over India's defence preparedness, claiming the country was at its weakest under the Narendra Modi government due to its "wrong policies".
Congress spokesperson Manish Tewari asked Prime Minister Modi and Defence Minister Nirmala Sitharaman as to why the country's defence expenditure as a percentage of India's GDP is at its lowest since 1962, as pointed out by a parliamentary panel report.
He cited the reports of parliamentary committees on Public Undertakings and the Public Accounts Committee to target the government, saying the reports pointing out the shortcomings in the defence budgets and expediencies were adopted unanimously.
He said the committees have BJP members in majority and the panel on public enterprises is headed by former BJP chief Murli Manohar Joshi.
He recalled that in the run-up to 2014 general elections, Modi had questioned UPA's track record on defence preparedness and national security.
"In 2018, the track record of the NDA-BJP Government speaks for itself. This country is perhaps, unfortunately, at its weakest because of the wrong policies which have been pursued by the NDA-BJP Government in both the foreign policy realm and in the realm of defence preparedness," he said.
The Congress leader asked why the defence expenditure as a percent of GDP constantly declined since 2014-15, as it was 2.06 pc in 2014-15 and came down to 1.96 pc in 2015-16.
It further came down to 1.5 pc in 2016-17 and down to 1.56 pc in 2017-18, which is below the pre-1962 level.
"The question to you Mr. Prime Minister and Madam Defence Minister is - does this make India stronger or does this make India weaker?
Tewari also questioned the decline in capital expenditure as a percentage of the defence budget from 39 pc to 34 pc in the last four years.
"Does this make India strong or does it make India weak? And the most important question is Mr Prime Minister and Madam Defence Minister has the Government junked the proposal cleared by the previous UPA Government with regard to the raising of the 17 Strike Corps which is also called the Mountain Strike Corp," he asked.
He said the country would like to know "if it is true, why it has been done and under whose pressure has this decision been taken".
The Congress leader alleged that the NDA Government which claims to be "muscular" on national security has dismantled Mountain Strike Corp, which was a counter force posture to China.
Tewari also expressed concern over the scenario in India's neighbourhood, with "Pakistan indemnified by China, Nepal pushed into the Chinese corner by ill-conceived economic blockade of Modi government, the Yameen Government in Maldives threatening India regularly and a Chinese port in Sri Lanka's Hambantota". -- PTI
« Back to LIVE
TOP STORIES