He was my closest friend for 65 years: LK Advani
August 16, 2018 18:25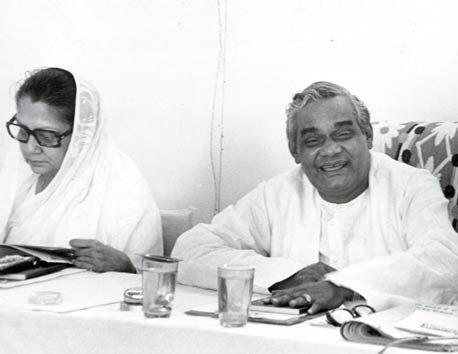 LK Advani: I am at a loss for words. He was my closest friend for 65 years. I cherish our long association. I am privileged to have worked as his deputy. He had a remarkable ability to win over adversaries.


Home Minister Rajnath Singh: This is a very sad moment for us that Atal ji is no more. Shortly his mortal remains will be taken to his residence where people can pay tribute to him.


West Bengal CM Mamata Banerjee: Very very saddened that the great statesman and former PM Shri Atal Bihari Vajpayee ji is no more with us. His passing away is a very big loss to our nation. I will always cherish the many fond memories. Condolences to his family and his many admirers. Let us cherish the idea of India for which our freedom fighters laid down their lives. Our people and our great institutions must strive to remain independent, in the true sense of the word.


Ratan N. Tata: All of us who knew Mr. Atal Bihari Vajpayee are saddened to hear of his passing away. He was a great leader with a great sense of compassion and humor. He will be remembered fondly by a vast number of us.


Omar Abdullah: Vajpayee Sahib is no more & I feel a personal sense of loss at his passing. Thank you sir for the opportunities, for the trust you reposed in me, for the opportunities to travel with you & to learn from you. You will be greatly missed

Words mean so little at a time like this but words are all we have to convey the deepest condolences to Gunu, to Neha, to Ranjan & the entire family. May God give you strength to bear this tremendous loss. #AtalBihariVajpayee.



BJP MP Dr. Harsh Vardhan: Indian scientific community would ever be grateful to #AtalBihariVajpayee - he expanded Jai Jawan, Jai Kisan to include Jai Vigyan after the nuclear test at Pokhran.His courageous decision to go for the 2nd nuclear test was the beginning of an India to reckon with. @BJP4India


Tripura CM Biplab Kumar Deb: Extremely saddened to hear about the passing away of one of our greatest inspirations for nation building, Bharat Ratna Shri #AtalBihariVajpayeeji.


Rajasthan CM Vasundhara Raje: I remember those early days of #BJP when under Atal ji and Rajmata ji I took my first steps into politics. Learning the ropes from the best, Atal jis wisdom and wit always proved to be an unmatched combination - his trademark style that #India came to love. #AtalBihariVajpayee


Congress: Former PM Atal Bihari Vajpayee was a great leader, loved by many & revered by all. We grieve his demise & our thoughts & prayers are with his family today.


Image: Rajasthan CM Vasundhara Raje tweeted this picture former PM Atal Bihari Vajpayee.

« Back to LIVE
TOP STORIES