Prez approves gallantry award for crew members of INSV Tarini
August 14, 2018 23:02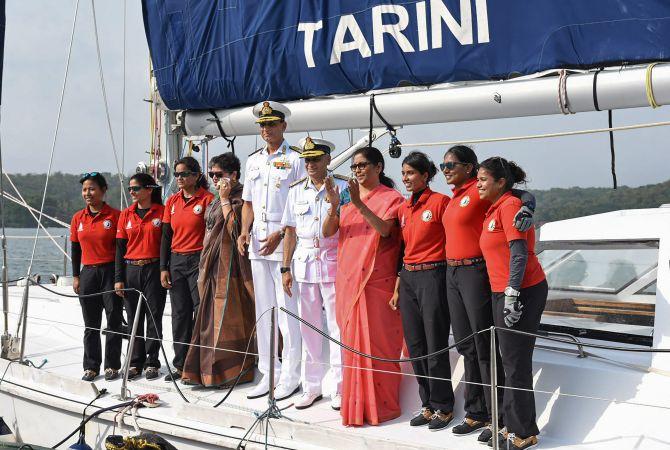 President Ram Nath Kovind approved Nao Sena (Gallantary) medal for the six women crew members of Indian Naval Sailing Vessel (INSV) Tarini, who circumnavigated the globe, braving treacherous seas and displaying 'raw courage'.
Lt Cdr Vartika Joshi skippered the 194-day mission, which commenced on September 10 last year, traversing through the Indian, the Pacific and the Atlantic oceans, along with Lt Cdr Pratibha Jamwal, and Lts P Swathi, Vijaya Devi, B Aishwarya and Payal Gupta.
The mission witnessed several gut-wrenching moments like when INSV Tarini negotiated the choppy waters off the Cape Horn, often dubbed 'the graveyard of ships' owing to the dangerous seas conditions in the Pacific Ocean in January, she was overtaken by a cold front with winds gusting up to 130 kilometers per hour.
The turbulent weather caused 10 meter high waves to come crashing down onto the boat, the Navy said in a statement.
'At this juncture the skipper deftly steered the boat keeping it safe by applying the best navigation and seamanship practices suited to the prevailing circumstances and sea conditions,' the statement said.
The storm lasted for one whole day and the boat was maneuvered with exceptional daring and courage to remain afloat.
Joshi worked undauntedly to save the boat, thus avoiding a situation that could have required the launch of an international rescue effort.
'Successful completion of circumnavigation voyage over 194 days at sea is a testimony of the raw courage, endurance and professionalism displayed by the officer and is in keeping with the finest traditions of the Navy Lt Cdr Vartika Joshi (43077-A) is therefore strongly recommended for the award of Nao Sena Medal (Gallantry),' the Navy said.
Nao Sena Gallantary medals were also announced for marine Lt Cdr Anil Raina and Kunal Saini for anti-insurgency operations.
The president also approved Shaurya Chakra for Capt P Rajkumar for his work during Cyclone Ockhi. Vayu Sena (Gallantary) medals were announced for Wing Commander (now Group Captain) and Abhishek Sharma Squadron Leader VD Keane. -- PTI

« Back to LIVE