Ensure no attacks against those who criticise your govt: Umar to PM
August 14, 2018 10:29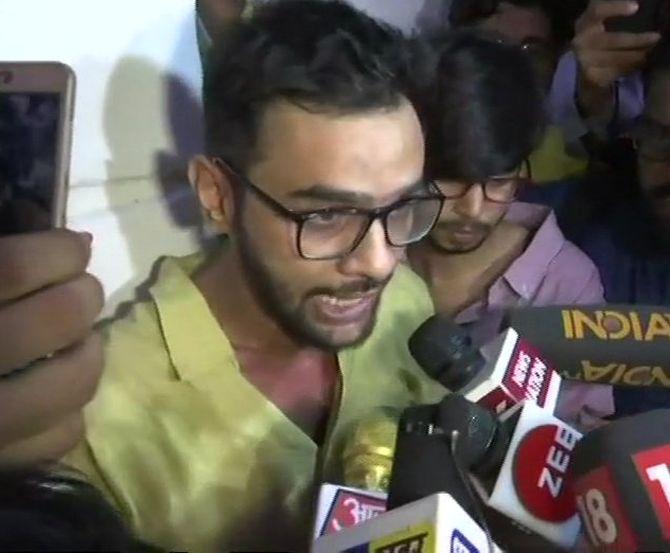 A day after he was shot at the Constitution Club in New Delhi, near Parliament, Jawaharlal Nehru University student leader Umar Khalid has issued a statement, in which he appeals to Prime Minister Narendra Modi to 'guarantee that there will be no attack on those who criticise your government and its many failures'.
In his detailed statement, he writes, "Two days before 15th August, the question also is what does "freedom" even mean if the citizens of this country have to be ready to die for their "crime" of just being vocal against injustice? What is most paradoxical is that I had gone to attend an event named "Freedom from Fear" today when an unidentified gunman attacked me and tried to kill me in front of the Constitution Club."
He further writes, "This hate campaign against me has been going on for last two years. There is no evidence, only lies. There has been no charge-sheet, only media-trial. There are no arguments, only trolling. There has been no debate, only death threats. And today it has all come down to a gun. Why is it that hashtags like "Tukde Tukde" has literally become a prefix to my name, whereas BJP leaders openly support those who say they will do "tukde tukde" of the country if a certain movie is released?
"Why is that I am called an anti-national and subjected to a never ending media trial, but there is no outrage against those who burnt the Constitution in the heart of the capital, in the presence of the Delhi police just a few days back? Why is it that those who are hell-bent on polarizing the country by hate-mongering against the minorities and by felicitating mob-lynchers are respected, revered and garlanded? And we who speak against hatred are villainised? Why is it that those who speak of dividing the society in the name of caste and attack the dalits the likes of Shambhaji Bhide, whom PM Modi calls a mahapurush- are not accused of breaking the country to pieces? Why is it that the people in power who want to sell off this country piece by piece to big corporates at the cost of the poor, are celebrated as deshbhakts and their critics deemed as "anti-nationals"? These are all relevant questions today."
Read Umar Khalid's full statement HERE
« Back to LIVE
TOP STORIES