At least 25 dead as bridge collapses in Italy
August 14, 2018 19:30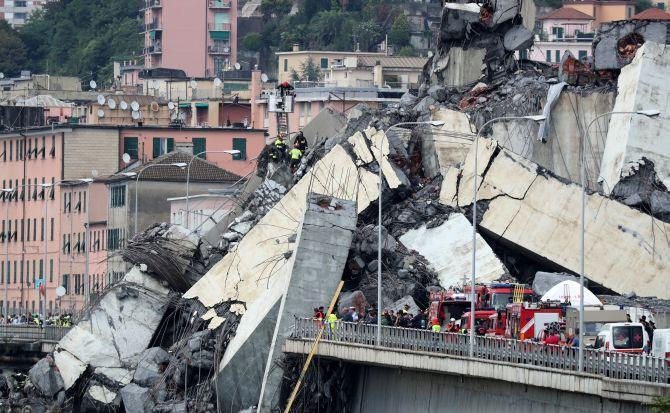 A bridge over an industrial area in the Italian city of Genoa partially collapsed during a sudden and violent storm today, crushing vehicles and leaving at least 25 people dead.
Italian Deputy Transport Minister was quoted as saying that the death toll will rise.
A section of the bridge crashed down from a height of about 50 metres over a river and some railroad tracks and buildings.
It collapsed at about 11:30 am (0930 GMT) during torrential rainfall, the local fire brigade said.
The head of the ambulance service said there were 'dozens of dead', according to Italian news agency Adnkronos.
At least 10 people were killed and 20 vehicles were involved, local police sources said.
Helicopter footage on social media showed trucks and cars stranded on either side of the roughly 80-metre long collapsed section of the bridge, which was built on the A10 toll motorway in the 1960s. -- Agencies
IMAGE: Rescue workers seen at collapsed Morandi Bridge in the Italian port city of Genoa on Tuesday. Photograph: Stefano Rellandini/Reuters

« Back to LIVE