Venezuela's Maduro escapes 'assassination attempt'
August 05, 2018 08:46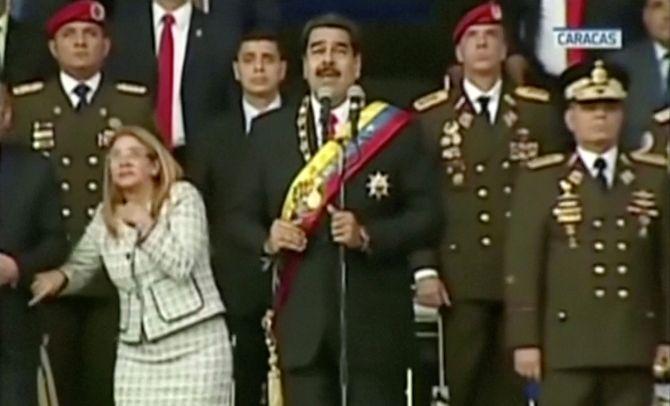 An explosive drone went off in Caracas when President Nicolas Maduro was addressing a live televised speech, said the Venezuelan officials.
Venezuela Communications Minister Jorge Rodriguez termed the incident as an attempt on Maduro's life, reported the Radio New Zealand.
Maduro was unharmed, but seven soldiers sustained injuries in the incident.
The Venezuelan President was speaking at the celebration of the National Guard's 81st anniversary when he was reportedly attacked.
Maduro abruptly cut short a televised speech and soldiers present broke ranks and scattered after hearing several explosions.
However, firefighters near the scene disputed the government's version of events.
Maduro was giving a speech yesterday in the capital of Caracas during a celebration of the National Guard's 81st anniversary.

Later, Maduro said he escaped an 'assassination' attempt using an explosive-laden drone, and accuses neighboring Colombia and unidentified financiers in the United States.

IMAGE: Venezuelan President Nicolas Maduro reacts during an event which was interrupted, in this still frame taken from video, in Caracas, Venezuela. Photograph: Venezuelan Government TV/Handout via Reuters

« Back to LIVE
TOP STORIES