Modi govt had attempted to stall NRC: Congress
August 05, 2018 18:54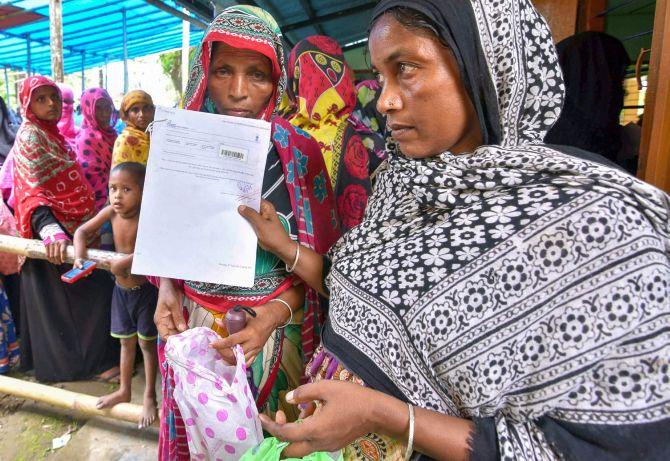 The Congress today alleged that the Narendra Modi government had itself tried to stall the NRC process by appealing to the Supreme Court that such a move could lead to law and order issues.
Congress spokesperson Pawan Khera said the Attorney General of India had used the fear of violence to delay the implementation of NRC in the Supreme Court in 2017, for which he was reprimanded by the top court.
"The Shah of lies and the Shahenshah of Jumlas tried their best to stall the NRC. I will tell you how they hatched a conspiracy to stop, delay and disrupt the NRC process," said Khera.
This statement from the Congress came a day after the party staked ownership of Assam's National Register of Citizens exercise by calling it "a baby of the Congress party," born as a consequence of the Assam Accord signed by former prime minister Rajiv Gandhi in 1985.
Accusing BJP president Amit Shah of speaking lies in Parliament about the government's show of courage to implement NRC, Khera said the date, November 30, 2017, when the SC came down heavily on the Union government will be remembered in history.
"On November 30, 2017, Supreme Court of India came down heavily on the Modi government for its excuses to delay the NRC in Assam. The Attorney General of India gave the excuse of fear of violence," he said.
Khera said the SC had lashed out at the AG and criticised the government's "sheer inaction" and dragging the matter for more than three years on the excuse of impending violence and law and order situation.
The court, Khera said, had additionally criticised the government over the AG's statement that part publication of the draft NRC could result in a law and order situation as a large segment of people would understand that their name have been excluded from the draft NRC.
"We do not see how the aforesaid situation can even remotely arise as we have already indicated in the earlier part of the present order that claims of 47 lakh persons (regarding whom the doubt pertained to parental linkage) and 29 lakh persons (married women who had submitted Gram Panchayat Secretary Certificates) are still pending and would be subject to verification and covered by publication of another draft NRC at a subsequent point of time," Khera said quoting the SC.
He said it was shocking that the Union government's highest legal officer made this submission in the apex court. -- PTI
« Back to LIVE