Trinamool files 'illegal detention' cases against Assam CM
August 04, 2018 00:05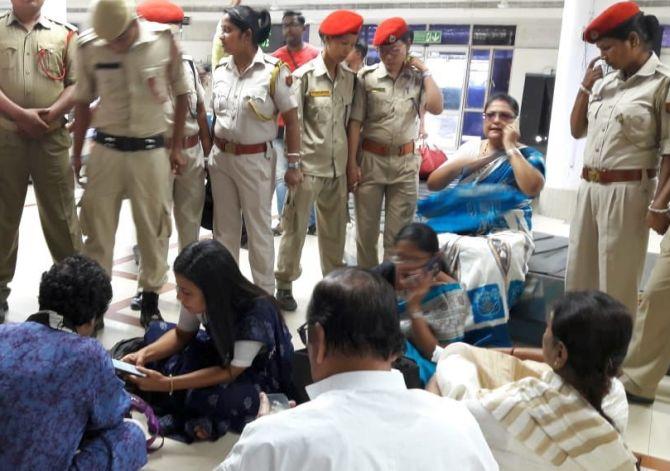 Two police complaints were lodged against Assam Chief Minister Sarbananda Sonowal in Kolkata on Friday over alleged 'manhandling' and 'illegal detention' of Trinamool Congress delegates at the Silchar airport yesterday by Assam police officials, TMC MP Kakoli Ghosh Dastidar said.
One complaint was filed at the Netaji Subhas Chandra Bose International airport police station under the Bidhannagar Police commissionerate and another at Alipore police station in the city.
TMC MLA Mohua Moitra had herself filed the complaint at Alipore police station.
The charges made against Sonowal by the TMC were illegal detention of public representatives and manhandling, Dastidar said.
An official of the Bidhannagar police commissionerate confirmed receiving the complaint from Dastidar.
"I and our party MP Kakoli Ghosh Dastidar have lodged two separate complaints against the Assam Home minister, who is also the chief minister, over manhandling and illegal detention yesterday. We were assaulted by the police officials (at Silchar airport)," Moitra said.
The officials yesterday told us that they have orders from the 'highest level of the state government' to ensure that we don't leave the airport, she claimed.
"Assam home minister should answer, why elected representatives were manhandled and illegally detained," she said.
Dastidar and Moitra were part of the delegation of the eight-member TMC delegation comprising six MPs, an MLA and a state minister, who were stopped at the Silchar airport and taken into preventive detention.
They had travelled to Silchar to assess the ground realities in Bengali-dominated Cachar district of Assam after the final draft of the National Register of Citizens (NRC) was published in that state on Monday.
Reacting to the police complaints against Assam Chief Minister, West Bengal BJP president Dilip Ghosh said the TMC is trying to 'disturb the peace and stability in Assam'.
"The TMC is trying to put national security at stake and gain political mileage out of it. In the video clippings we have seen how the police personnel were pushed by TMC leaders," he said.
Incidentally, three FIRs were filed recently against West Bengal Chief Minister Mamata Banerjee in Assam for her alleged 'instigating remarks' that threatened the unity of the country and her attempt to create unrest in the state.
Two cases were filed against Banerjee yesterday at the Pan Bazar and Basistha police stations in Guwahati, while one FIR was filed against the TMC chief in Lakhimpur district on Wednesday.
Banerjee has opposed the NRC in Assam, saying it will lead to 'civil war and bloodbath in the country' as over 40 lakh applicants have been excluded in the final draft of the citizen's register. -- PTI

« Back to LIVE
TOP STORIES