Kerala CM visits hospital, enquires about Karunanidhi's health
August 02, 2018 12:50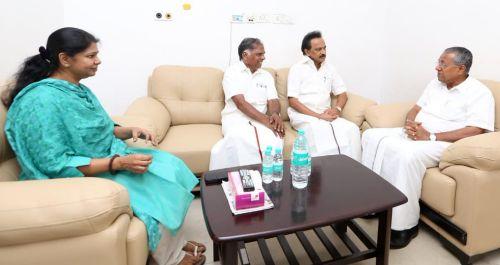 DMK president M Karunanidhi's health is improving, Kerala Chief Minister Pinarayi Vijayan said today after he met the veteran Dravidian leader's family members at a hospital to enquire about his health.
Vijayan told reporters he met Karunanidhi's son and the party's working president M K Stalin and daughter Kanimozhi, besides others family members and DMK leaders.
"They all informed us (CPI-M delegation) that his condition is improving," he said.
"Kalaignar (Karunanidhi) is a fighter by birth itself. In his life he fought in several fields," Vijayan added and praised the 94-year-old leader's willpower.
The chief minister said he wished Kalaignar a speedy recovery.
Karunanidhi, admitted to a private hospital after his blood pressure dropped on July 27, has been advised an extended hospital stay.
On July 18, he underwent a procedure at the same hospital to replace a tracheostomy tube to help him breathe normally.
Vice President M Venkaiah Naidu and Congress president Rahul Gandhi visited him in hospital.
-- PTI
« Back to LIVE