Modi govt needs to build a pro-Dalit image: Paswan
April 10, 2018 00:20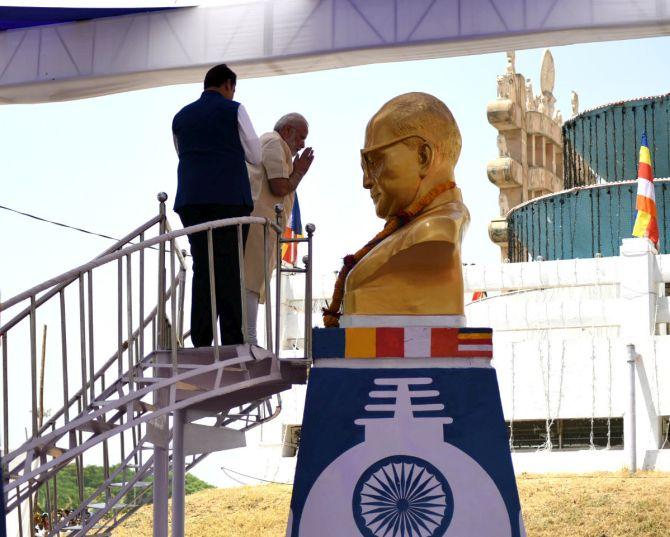 Union Minister Ram Vilas Paswan has favoured inclusion of the SC/ST Act and reservations for Dalits in Ninth Schedule of the Constitution so that they cannot be challenged in a court of law.
Laws under the Ninth Schedule are beyond the purview of judicial review. The Supreme Court, however, in 2007 had ruled that any law placed in the Ninth Schedule after April 24, 1973, would be subject to scrutiny of courts if they violated fundamental rights.
"I would also urge the government to consider inclusion of the SC/ST Act and the reservations in the Ninth Schedule so that there remains no possibility of anybody challenging them in a court of law," Paswan told reporters.
Paswan, also the Lok Janshakti Party chief, charged the opposition parties such as the Congress, the RJD and the BSP with trying to derive political mileage out of the anxieties of Dalits following dilution of the SC/ST Act by the Supreme Court.
"I fully understand what the Dalits must be feeling in the wake of the Supreme Court order. But I would request them to rest assured that the matter will be dealt with," he said.
The Supreme Court had on March 20 "diluted" the provisions of the Scheduled Castes and the Scheduled Tribes (Prevention of Atrocities) Act, ruling that government servants should not be arrested without prior sanction and private citizens too, can be arrested only after an inquiry.
"I have no objection to Dalit youths taking part in agitations but they must not indulge in violence. But, I have serious problem with opposition political parties trying to derive political mileage out of the issue," he said.
Paswan was referring to the April 2 Bharat Bandh called by Dalit and tribal organisations, and supported by many opposition parties, which had resulted in large-scale violence in states like Madhya Pradesh and Uttar Pradesh.
"The Narendra Modi government is in need of building a pro-Dalit image. Late Prime Minister VP Singh had built for himself the image of a messiah of the downtrodden though he did not belong to a poor family nor from a backward caste, unlike Modi," Paswan said. -- PTI
« Back to LIVE
TOP STORIES