I see a lot of me in Virat: Ravi Shastri
April 10, 2018 22:35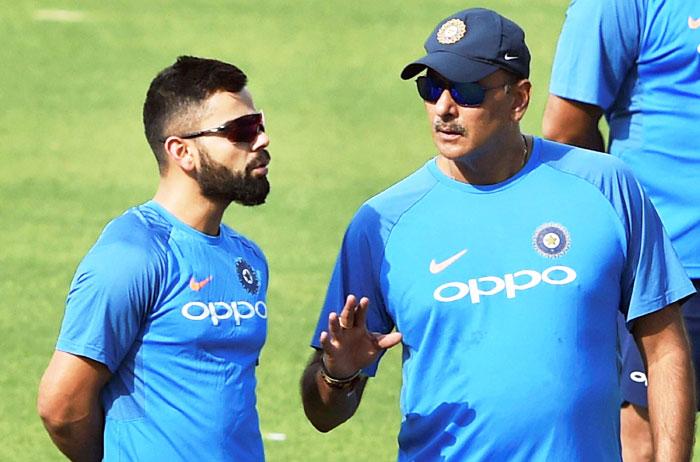 India's chief coach Ravi Shastri feels that Virat Kohli's aggressive approach is a something he can relate to as he too had a similar mindset during his playing days.
"I do (see a lot of myself in Virat). Our mindsets are pretty similar, we are pretty aggressive, and we like to compete. And when someone has a mindset and the work ethic like Virat's, it is bound to rub off on the other players of the team, and that's is why India is having a great run at the moment," Shastri said after receiving the 'Maharashtracha Abhiman ' award during the 'Lokmat Maharashtrian of the Year Awards 2018' in Mumbai.
Shastri also spoke about what makes Mahendra Singh Dhoni the legend that he is.
"MS is a legend and he can remain unfazed in any situation. Whether he gets out for zero or scores a hundred, whether he wins the World Cup with a six, he is the same. There is a lot of mutual respect that Virat and Dhoni share. Their relation is fantastic and whatever you read in the media might not be true," Shastri said.
"Virat will go to him (Dhoni) seeking his advise , that communication is tremendous from the team point of view," said Shastri when asked if they have had differences.
The former all-rounder also does not have any issues with sledging and he would advise his boys to give back without crossing the line.
"I have no issues with that (sledging). Absolutely no issues on that. If someone tells me something, he says one , I am going to tell the boys give them three. One word (and) you give three back, you can do it in a nice way, (where) you don't cross the line, but you don't give an inch," he concluded. -- PTI
« Back to LIVE
TOP STORIES