SC/ST Act: Dalit factions in Kerala stage protest
April 09, 2018 11:29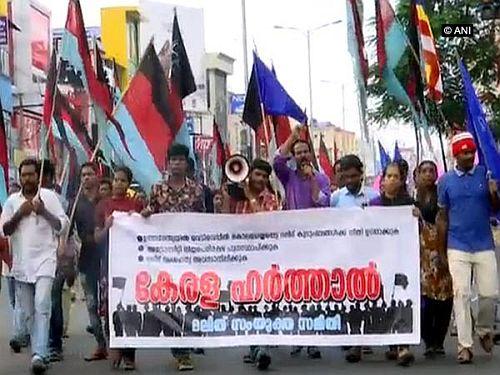 Amid the ongoing furore over the alleged dilution of the Scheduled Castes and Scheduled Tribes (Prevention of Atrocities) Act, Dalit organisations staged a protest in Thiruvananthapuram on Monday morning.


A number of Dalit Organisations held protests and demanded the SC/ST Act be reinstated, along with the cancellation of the Supreme Court's order in the matter.


For those unversed, the top court on March 20 had introduced the provision of anticipatory bail in the SC/ST Act, while directing that there would be no automatic arrest on any complaint filed under the law.


Following this, various Dalit groups called for a 'Bharat Bandh' to demand restoration of the Act to its original form.Agitators halted railway traffic, forced shops to shut down and made their presence felt in at least 10 states including Punjab, Odisha, Uttar Pradesh, and Rajasthan. Protests subsequently turned violent, with clashes erupting between police and protestors in Madhya Pradesh, Uttar Pradesh and five other states.


Even as the Centre filed a review petition in the top court, the outrage over the ruling engulfed numerous parts of the country, claiming at least 11 lives.


However, the Supreme Court refused to put a stay order on its March 20 ruling, despite the filing of the review petition against the same.


On Thursday, members of the Bhartiya Dalit Panthers Party wrote a letter in blood to Prime Minister Narendra Modi and President Ram Nath Kovind against the alleged dilution of the Act.
« Back to LIVE
TOP STORIES