More transparency needed in collegium meetings: Justice Chelameswar
April 09, 2018 23:33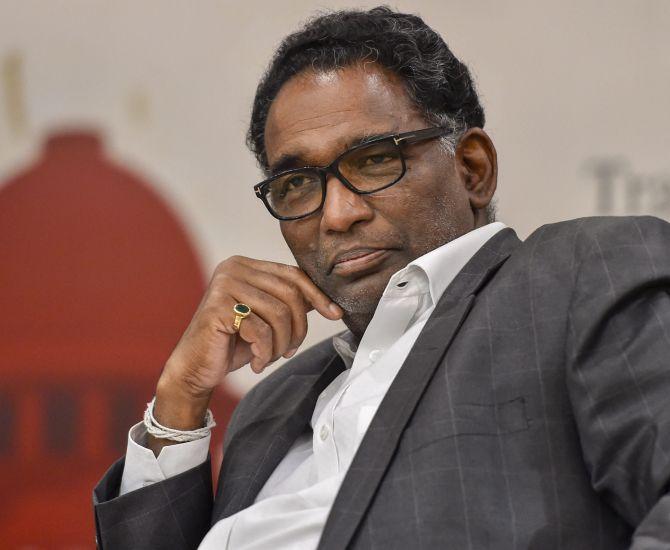 Batting for more transparency in collegium meetings, the second senior most judge of the apex court, Justice J Chelameswar today said a proper performance assessment of high court judges for elevation to the top court was hardly done.
The judge was speaking during a panel discussion titled 'The Indian Higher Judiciary: Issues and Prospects'.
He said the authorities involved in the process of selection must place their assessment on record to eliminate further problems.
"What exactly goes on in collegium meetings and what is the nature of assessment undertaken at the time of choosing a particular name is required to be a little more transparent.
"An assessment of performance of a high court judge, I am talking about elevation to the Supreme Court, is hardly done. Generally the assessment goes by impression," Justice Chelameswar said.
During a discussion on reforms required in the apex court, the judge on a lighter note said with the sanctioned strength of the top court being 31 judges, each state will stake its claim for a seat in the top court.
"The Supreme Court's sanctioned strength is 31. The moment you create the Supreme Court with 31 judges, the first thing that happens in this country is that every state believes that it is entitled to a seat in it," he said.
The panel discussion followed the release of a book 'Appointment of judges to the Supreme Court of India: Transparency, Accountability and Independence'.
When asked about the need for a permanent constitution bench, Justice Chelameswar said the matter required a re-look.
"It requires a re-look at the jurisdiction of the court. I do not think Dr Ambedkar would have ever dreamt that the Supreme Court would one day hear bail applications. The manner in which the jurisdiction of this court expanded added to the problem. This court was to decide only constitutional issues," he said.
The justice, however, agreed that such a step was required. -- PTI
« Back to LIVE
TOP STORIES