Mumbai motorman stops train to save dog, wins praise
September 05, 2017 16:33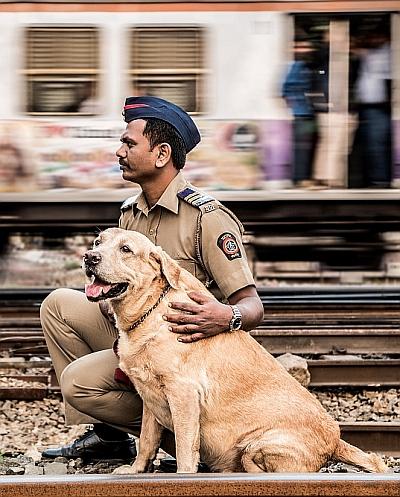 Time and tide -- and Mumbai suburban trains -- wait for none, but today was an exception.
An alert motorman of a 'local' train (as suburban trains are known in Mumbai) did stop a train to save a dog which was about to get run over. The incident happened at the crowded Churchgate station of the Western Railway in Mumbai this afternoon.
A local train had barely pulled into the station when the motorman saw a dog on the tracks.
He stopped the train and blew the horn but the canine did not budge and stood its ground.
The incessant blowing of the horn attracted commuters, including a PTI correspondent, from other platforms but did not seem to have an effect on the dog who stood on the tracks, facing the train.
It was left to a good samaritan, who was waiting for this train, to get down on to the tracks and lift the dog to safety amid the applause of the onlookers.
There was a rush to laud the rescuer and also the motorman for saving the dog's life.
The motorman, R P Meena, told PTI that it was all in a day's work for him.
Told that he had done a wonderful thing, the railway employee merely shrugged, saying, "It is nothing."
Relieved that the drama had ended on a happy note for the canine, the passengers jumped into the train, the 1.43 pm Churchgate-Virar fast local.
Image used for representational purpose only. Photograph by Pravin Talan for Mumbai Railway Police Calendar 2017.
« Back to LIVE
TOP STORIES